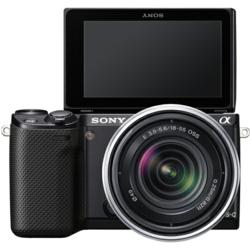 B&H Photo Video is excited to share with photo enthusiasts the release of the Sony Alpha NEX-5R APS-C Sensor Mirrorless Interchangeable Lens Camera
New York, NY (PRWEB) August 29, 2012
B&H Photo Video is excited to share with photo enthusiasts the release of the Sony NEX-5R APS-C Sensor Mirrorless Interchangeable Lens Camera.
Sony has just announced the newest camera in their line of mirrorless cameras—the NEX-5R. Like its predecessors, this is a compact interchangeable lens camera with a large APS-C-sized sensor. This combination provides a bit of both worlds—the portability of a compact point & shoot with the control and image quality reminiscent of a DSLR. The NEX-5R's 16.1 megapixel sensor has the same resolution and size as many of the full-size DSLRs, but is housed in a body about half the size. Furthermore, this camera employs a unique autofocus system that combines both phase-detection and contrast-detection focusing systems for both quick and highly-accurate focusing, as well as improved focus tracking. Wi-Fi capabilities have also been integrated into the design, making it possible to instantly share images and HD video directly from the camera.
The 16.1MP APS-C-sized Exmor HD CMOS image sensor housed in the NEX-5R is the same sensor format that Sony puts into its DSLR cameras and provides stunning, high-resolution images that can be blown up for gorgeous prints with fine details and silky textures. It also is a highly-sensitive sensor that can handle low-light situations. Sony's BIONZ Image Processing Engine suppresses color and luminance noise, giving an enhanced color reproduction, rich tonal graduations, and an amazing clarity of detail. It also provides fast performance and processing speeds.
The NEX-5R is Sony's first E-mount camera with Fast Hybrid AF, utilizing two focusing technologies to provide extremely fast and accurate auto-focusing. Phase detection AF splits incoming images into two, and compares them for light intensity in order to focus. It is a fast system, able to focus in 0.3 seconds, and especially useful when tracking moving subjects. Contrast AF uses the image sensor to measure the contrast differences amongst the pixels, with pixels that are "in focus" having higher contrast. It is considered a very accurate focusing system and—combined with Phase detection AF—provides the 'Hybrid' system that gives the NEX-5R such a noteworthy DSLR-like auto-focusing capability.
The Hybrid auto-focusing is also utilized when shooting Full HD Video with the NEX-5R, and provides continuous auto-focus when shooting video, something very few cameras do. Continuous AF gives the home movies that extra watchable touch that will command attention when it's shown on a HDTV screen via the provided HDMI output. Able to shoot at 60 frames per second, or the more cinematic 24 frames per second, the NEX-5R also shoots with higher quality AVCHD codec and upload-friendly MP4 codec.
Wi-Fi is another first for NEX-5R. It is the first Sony Alpha camera to offer direct WiFi connectivity to smartphones and tablets. With the PlayMemories Camera App installed on an Android, iPhone or tablet, one can transfer any image from the NEX-5R straight to a smartphone, and from there to the world of waiting friends. This is a great way to share high-quality images, but also serves as a way to save and back up images without removing the memory card. PlayMemories Apps also provide an easy way to add functions and updates to the camera.
Read and learn more detailed information about the Sony NEX-5R at BH In-Depth
Connect with B&H Photo on the Web! (Facebook, Twitter, Tumblr, Google+, Pinterest, Flickr, YouTube, B&H Insights & InDepth)
About B&H Photo Video
As the world's largest source of photography, video and audio equipment, B&H Photo-Video is known worldwide for their attentive, knowledgeable sales force, and excellent customer service, including fast, reliable shipping. Visitors to the website can access a variety of enlightening articles and educational videos. B&H has been satisfying customers worldwide for close to 40 years.