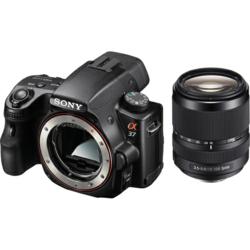 B&H Photo Video is excited to share the release of the new Sony Alpha A37 DSLR camera which is targeted at photo-enthusiasts.
NYC, NY (PRWEB) May 17, 2012
B&H Photo Video is excited to share the release of the new Sony SLT-A37 DSLR camera which features fixed translucent mirror, enabling high-definition stills and video with zero image black-out, full-time phase-detection autofocus for stills and video, and full manual focus and exposure overrides including an ISO range of 100 to 16,000. Plus, the camera features the new auto portrait framing ability.
Also being announced today is the new Sony NEX F3 mirrorless camera--which features a new 180 degree swivel screen for user's that want to take self-portraits. The NEX-F3 stands apart as a powerful and easy to use interchangeable lens camera.
Translucent Mirror Technology is the backbone of the Sony SLT-A37 camera and provides a stable platform for many of the high speed features to function from. This technology automatically directs light to both the image sensor and AF sensor on a full-time basis for quick, responsive actions.
16.1 Megapixel Resolution
One can get incredible detail and gorgeous enlargements. Thanks to the APS‐C sensor size and Sony Exmor APS HD CMOS technology, the SLT-A37 camera achieves high resolution with no penalty in low‐light sensitivity or sensor noise.
High Speed AF Full HD Movie retains the same fast, precise Phase Detection one can enjoy for still images. It's a decisive advantage for tracking fast-moving subjects and a major benefit of Translucent Mirror Technology.
Tele Zoom High Speed 7FPS Shooting
The translucent mirror makes it far easier to capture the decisive soccer kick or your baby at her absolute cutest. The Tele Zoom High Speed shooting mode shoots up to 7 fps at 8.4 MP while maintaining continuous auto focus and auto exposure.
Multi-frame NR
Experience incredible low-light shooting without a flash. The camera captures six images in a fraction of a second. Combining the data from all six, it creates a single image with a reduction in noise equivalent to two additional steps of ISO sensitivity.
Hand-held Twilight
Get cleaner and sharper nighttime pictures—beyond the capability of traditional cameras—without using flash or a tripod. The camera captures six images in a fraction of a second. Combining the data with separate algorithms for still and moving parts of the picture reduces blur, minimizes noise and enables extraordinary detail.
ISO 16000 sensitivity
Incredibly clear low‐light pictures without sacrificing detail, made possible by the low‐noise
Exmor APS HD CMOS image sensor and refined BIONZ image processor.
Interchangeable lenses
The NEX-F3 Camera is compatible with Sony's E-mount series of smaller, lighter lenses designed specifically for α compact interchangeable lens cameras. Accepts A-mount lenses via optional LA-EA1/EA2 adapter.
Connect with B&H Photo on the web! (Facebook, Twitter, Tumblr, Google+, Pinterest, Flickr, YouTube, B&H Insights & InDepth)
About B&H Photo Video
As the world's largest source of digital cameras, video and audio equipment, B&H Photo-Video is known worldwide for their attentive, knowledgeable sales force, and excellent customer service, including fast, reliable shipping. Visitors to the website can access a variety of enlightening articles and educational videos. B&H has been satisfying customers worldwide for close to 40 years.