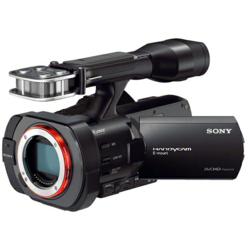 B&H Photo Video is pleased to share with the Photography community the launch of the Sony NEX-VG900 Full-Frame 35mm Sensor HD Event Videography Camcorder.
New York, NY (PRWEB) September 12, 2012
B&H Photo Video is pleased to share with the Photography community the launch of the Sony NEX-VG900 Full-Frame 35mm Sensor HD Event Videography Camcorder.
The Sony NEX-VG900 Full-Frame Interchangeable Lens Camcorder is the first Handycam camcorder with a 35mm sensor to fully exploit the artistic potential of interchangeable lenses. With a resolution of 24.3 effective megapixels, the camcorder's Exmor CMOS sensor is around 40 times larger than its equivalent in standard consumer camcorders and more than twice the size of the APS-C sensor found in other interchangeable lens Handycam models. With a wider view, surprising low-light sensitivity and robust defocusing capabilities thanks to an ultra-shallow depth of field.
The Sony NEX-VG900 also captures full-frame, 24 megapixel still photos, with RAW format support for all the post-processing flexibility and quality expected from a pro-class type camera. The sensor also allows the creation of distinctive bokeh (attractive defocus) effects; high sensitivity for extremely clear, low-noise images; and effortless reproduction of smooth, true tonal gradation.
Besides the new 35mm sensor, the NEX-VG900 also offers an even more creative control with numerous options to help create the image the way envision it. Beautiful, film-like results can be achieved by shooting video in 24p progressive mode with CinemaTone Gamma and CinemaTone Color presets to precisely control cinematic grading effects. Additionally, AVCHD version 2.0 standard 60p recording maximizes the range of creative options for movie-makers to explore. Even greater flexibility is provided by a choice of new Picture Effect modes, enabling easy creation of artistic in-camera treatments.
The NEX-VG900 also provides even more flexibility and creative options by including a LA-EA3 adapter to utilize A-Mount lenses. When it comes to lenses having more options and flexibility is always advantageous. With the LA-EA3 one can use A-mount lenses and take full advantage of wide-angle shooting at the lens's designed focal length with no cropping.
Tru-Finder OLED Electronic Viewfinder Frame the subject with more accurately with the Tru-Finder OLED electronic viewfinder that conveniently turns on as one positions their eye against it. It begins with 2359K dots for amazing resolution and high contrast ratio for incredible depth. OLED also reduces motion blur to a bare minimum. One can also see the results of camera adjustments in real time with superb color and detail.
Quad Capsule Microphone & 5.1 Sound The integrated Quad Capsule Spatial Array 5.1 ch surround microphone can record with forward and rearward directivity as well as 5.1-channel surround sound with impressively low noise and high clarity. A new Multi Interface Shoe allows attachment of an optional XLR adapter kit for even more sound-capture versatility.
Full Manual Control With full manual control of iris, gain, and shutter one will be able to adapt to almost any lighting condition to get the best shot. Also, the iris, shutter speed, and gain adjustments can easily be made via direct access keys. And the camcorder's pro-style display peaking function is complemented by a one-touch focus magnification button on top of the grip.
Uncompressed HDMI Output Easily record Full 1080 HD uncompressed clean-screen video files to external recording devices via an HDMI connection in 24p, 60p and 60i frame-rates.
Read and learn more detail information about the Sony NEX-900 at BH InDepth.
Connect with B&H Photo on the Web! (Facebook, Twitter, Tumblr, Google+, Pinterest, Flickr, YouTube, B&H Insights & InDepth)
About B&H Photo Video
As the world's largest source of photography, video and audio equipment, B&H Photo-Video is known worldwide for their attentive, knowledgeable sales force, and excellent customer service, including fast, reliable shipping. Visitors to the website can access a variety of enlightening articles and educational videos. B&H has been satisfying customers worldwide for over 35 years.