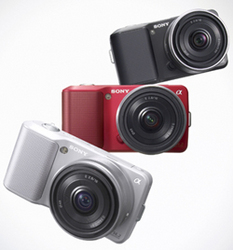 New York, NY (Vocus) May 12, 2010
Sony introduced today two innovative alpha compact interchangeable-lens digital cameras (models NEX-5 and NEX-3), that provide the quality of a digital SLR in a compact body that is easy to slip into a small purse or jacket pocket for ultimate portability.
Taking the design concept of an ultra-compact, mirror-less/finder-less digicam advanced by the many Four Thirds (4/3)-format cameras currently on the market, Sony has taken the concept a step further by incorporating a Sony 14.2MP APS-C HD Exmor CMOS sensor (1.5x), which features 58% more surface area than a 4/3-format imaging sensor, and about 13 times the surface area of most point-and-shoot imaging sensors. And since sensor size is a major factor when it comes to resolving power, Sony's NEX-series cameras should prove to be a significant upgrade in terms of sharpness and dynamic range, compared to comparable sub-compact offerings.
There are many interesting innovations in the Sony NEX-5 and NEX-3. The Sony NEX-series cameras are the first interchangeable-lens digital cameras designed to tackle continuous autofocus and exposure adjustment while recording video, something few other cameras can do. Video is indeed the one major area, aside from size, where the two new cameras differ: The Sony NEX-5 supports 1080i AVCHD video recording, while the Sony NEX-3 is limited to 720p video capture.
The NEX-series cameras are designed to use Sony E-series lenses, a new compact line of optics designed to work with the reduced flange distance that resulted from the removal of the reflex viewing system. The new E-series optics also incorporate silent AF and iris control, to eliminate camera noise when shooting video.
In addition to Sony E-series optics, you can also use any of Sony's traditional DSLR lenses (as well as all Minolta AF-mount optics) on NEX-series digicams by using the optional LA-EA1 lens adapter. (Manual focus and full-open aperture metering only)
Another creative imaging feature that has been brought over from their Cyber-shot line is Sony's Sweep Panorama mode, which captures up to 60 individual images and stitches them together in-camera to produce 23MB panoramic images up to 226-degree horizontal or 151-degree vertical shots with 16mm lens. Here too, the results should prove to be that much sharper and snappier due to the larger imaging sensor.
Both models will be ready for 3D Sweep Panorama this July (with firmware update). With 3D Sweep Panorama mode, these cameras can shoot 3D panoramic still images with a single lens. The high-speed burst of frames is stitched together using innovative processing techniques to automatically create detail-packed 3D panoramas. These files can be enjoyed in stunning 3D on compatible 3D televisions. (Other accessories may be required)
These cameras provide the advantages of multi-frame capture featured in Cyber-shot® cameras, including Hand-Held Twilight and Anti-motion Blur modes, which offer extraordinary low-light performance.
About B&H Photo Video:
As the world's largest source of professional digital photography, video and audio equipment, B&H Photo-Video is known worldwide for their attentive, knowledgeable sales force, and excellent customer service, including fast, reliable shipping. Visitors to the website can access a variety of enlightening articles and videos. B&H has been satisfying customers worldwide for over 30 years. http://www.bhphotovideo.com/
###