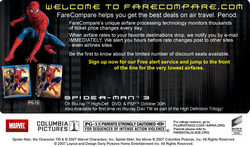 Dallas, TX (PRWEB) October 22, 2007
Farecompare.com is providing 20 round trip airline tickets to lucky winners of the Spider-Man 3 DVD 'Spin To Win' game hosted on mega website MSN.com. Farecompare has signed on as a prize provider in game which offers up to $100,000 in prizes. The DVD release of this year's #1 Box Office Hit, Spider-Man 3 is set to be the gift event of the holiday season. Contestants can daily play the Spider-Man 3 DVD, 'Spin to Win' game on MSN.com. Unlike the plot line of 'Spidy 3', there is no dark side to this promotion, which runs from October 10th, through December 4, 2007.
Farecompare.com overcomes the dark side too saving air travelers from the evil of overpaying for airline tickets. Farecompare also saves everyone the valuable time it takes to search the Internet for an airfare deal. Farecompare.coms' proprietary free email alert technology automatically scans for airfare bargains 24/7, including deeply discounted airfares on First Class International & Domestic flights. Farecompare.com immediately alerts a user via email, when a low airfare price is published, up to six hours before the other sites, including the airlines themselves. Farecompare.com users enjoy the advantage of being first in line for cheap seats to their favorite destinations. Registration takes only a few seconds and the website guarantees its users privacy with a very strict policy of never sharing user information.
Farecompare.com not only helps travelers find cheap airfare, with the approach the holiday season, it also provides important news about seasonal travel issues. On October 4th, CBS Evening News interviewed CEO, Rick Seaney and broadcast his interview, along with Farecompare data showing its national audience the cities to avoid flying through this Thanksgiving due to likely delays and cancellations. A recent New York Times article headlined "Flying for the Holidays? Brace Yourself" featured an interview with CEO, Rick Seaney and was one of the NY Times 'most emailed' of the week. Travel + Leisure just named Farecompare.com in it's top 25 travel websites, Daily Candy recently emailed it's faithful a dazzling report about Farecompare.com finding cheap First Class Airline Tickets.
And on the business news media front, Wall Street Journal partnered with Farecompare.com to publish it's popular weekly Wall Street Journal/Farecompare.com Business Travel Index, Portfolio magazine featured how airline industry stock analysts use Farecompare pricing data to predict stock prices and Reuters News & Bloomberg regularly publish Farecompare.com airfare pricing data and expert analysis by CEO, Rick Seaney.
About FareCompare.com
In 2004, software innovators, Rick Seaney and Graeme Wallace (with a reputation of being the 'go to' providers of technology to track competing airline prices for the industry) established FareCompare LP. The two launched Farecompare.com, a consumer airfare research website in March of 2006. The underlying premise of Farecompare.com: provide consumers access to new generation, proprietary software that was formerly only available to airline industry insiders and analysts. This cutting edge software enables Farecompare.com to rapidly convert data feeds directly from the airlines, and then mine tens of millions of fares up to 8 times a day for the best deals. Only Farecompare.com is able to instantaneously deliver this newest airfare information directly to the consumers (via free email alerts and web posting), up to six hours before other sites, including the airlines themselves. Farecompare users enjoy being the first in line to purchase these discounted seats (the cheapest airline tickets are limited to only 10% or so of the available seating on a given aircraft and sell quickly).
###