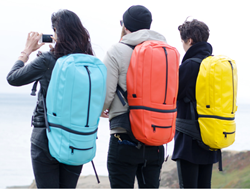 The SOOT Electropack is essentially three bags in one, allowing users to choose the most appropriate setup for any journey.
Fort Lee, New Jersey (PRWEB) October 05, 2013
Urban warriors and world travelers alike have been seeking one perfect bag to suit their different needs since the invention of travel. According to the newest blog from Marble Media LLC's TechConsumer.com titled,"The Ingenious SOOT Electropack," most commuters own some form of small bag they carry everywhere. It could be a carry-on satchel, a larger messenger bag, a full-on backpack; or maybe they own all three just to have the bag they need from one day to the next.
According to TechConsumer.com guest blogger Liz Ernst, a Mountain View, California startup, called SOOT has created the SOOT Electropack, a travel bag that can be broken down to three bags— a large, 34-liter backpack, a 24-liter commuter bag or a scaled-down, 10-liter messenger pack. The SOOT Electropack also comes with a built-in battery pack that works off-grid for two weeks, allowing users to charge up to two devices anywhere, anytime, via USB cables.
"The SOOT Electropack is essentially three bags in one, allowing you to choose the most appropriate setup for any journey without having to carry more bag than you need," Ernst says. "So, if you are out hiking the Appalachian Trail or stuck in a Manila airport, you can charge your devices without a problem."
SOOT Electropack is crowdfunding the SOOT Electropack through Oct. 17, 2013. Priced at $239, the bag is extremely functional, and considering the fact that buyers receive essentially three bags and the portable power pack that hold a charge off grid for two weeks, the price isn't expected to turn off too many committed commuters, explorers and travelers.
For more information, visit the TechComsumer.com website or email info(at)techconsumer(dot)com.
About Marble Media LLC:
Marble Media LLC is a creator of high-quality, content-rich blog sites that provide expansive coverage of relevant information to readers who make up a wide range of demographics. The Marble Media LLC team of expert writers covers a wide range of specialties including travel, food, health, fitness, social media, marriage, parenting, technology, weight loss, fashion and much more.
For more information on Marble Media LLC's offerings and advertising opportunities, visit the MarbleMediaLLC.com website, or email sales(at)marblemedia(dot)com.