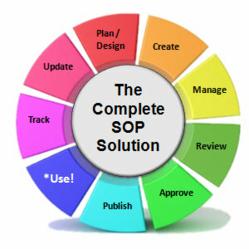 St. Louis, MO (PRWEB) April 02, 2013
Successful CEOs and managers know that having clear processes and standard operating procedures (SOPs) in place is essential for high-performance and keeping regulators happy.
However, the review and approval process is an essential step that's often a major headache and obstacle to success. It can be tough just to get busy employees to actually look at what is sent to them to review, not to mention tracking comments, statuses, and approvals and managing all the moving parts! COMPROSE's Zavanta software eliminates these challenges.
"Bad" content is a big part of the problem: "You really expect me to understand all this and sign my name to it?"
Highly-regarded for its built-in structure and SOP quality, Zavanta enables anyone to create processes, standard operating procedures, and polices that are well-thought-out and easy to follow -- so it's easier for reviewers to do their part in a timely manner.
But even if the content is really good, "managing" the overall process can still be overwhelming, especially in larger organizations. Even the best project managers struggle to manage multiple reviewers and teams, complex review cycles, and large volumes of complex SOPs. But it doesn't have to be a struggle any more.
COMPROSE's R&D team set out to tackle this problem, incorporating many great ideas from long-time Zavanta customers in many industries. The result: Zavanta 5.0. Watch the features demos.
Zavanta offers features to streamline simple or complex review cycles with multiple people and teams. With the new "Control Central" Dashboard, administrators can monitor the status and review activity of all documents – at a glance. Zavanta will automatically email-notify reviewers and approvers when documents need their attention, notify them when they miss their deadline, and more. It even has a "nag" feature!
Complicated document "routing" is a thing of the past. With Zavanta, reviewers and approvers go to a central portal, where they can access all the documents that need their attention. Once they approve a document, it comes off their list. They can view a procedure or policy in context with any related documents that are linked to it. Their comments are automatically logged and date-stamped. With Zavanta's workflow, multiple review cycles can be run back to back. Zavanta automatically sends the appropriate email notifications all along the way. Approvers can use the electronic signature for final sign-off.
Zavanta's new Automated Actions companion feature automates common management tasks. Managers can notify assigned subject experts when they need to write or revise existing procedures. Employees get notified when key business processes change. Administrators get notified when documents come up for review. You can even send email reminders to procedure performers WHEN they need to perform a task – quarterly or annually, for example. You can create an email notification or automatically change a document's status code based on ANY rule. The possibilities are limited only by your imagination.
To learn more visit comprose.com/zavanta-software and sign up to watch the Zavanta demo videos. Hundreds of organizations including FDIC, UCLA, First Bank, and Toyota NA already use COMPROSE's Zavanta software to standardize operating procedures and best practices.
About COMPROSE: Visit http://www.comprose.com
COMPROSE's Zavanta software and Operations Mapping method provides everything you need to unlock knowledge from experts' heads and build a process and standard operating procedure system you can manage with, train from, and regulators love. Employees have 24/7 access to everything they need to perform their jobs the best way. Average performers become overachievers! Everyone knows what to do.