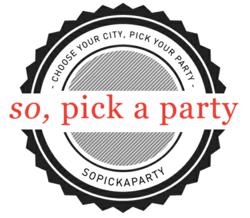 Boston, MA (PRWEB) June 25, 2012
So, Pick A Party, a nightlife search guide that connects party-goers with nearby venues, announced today the launch of their site (http://www.sopickaparty.com) in response to strong demand for an intuitive and all-inclusive online nightlife event finder. Touted as "the easiest and smartest nightlife search guide that finds the best parties, clubs, and events in your city," the website offers services like event searching, guest list signups and ticket sales for young professionals seeking to get involved in the nightlife scene of their urban stomping grounds.
The company will offer venue and event organizers marketing services, including email marketing, strategy, public relations services and affiliate ticket transactions. The intellectual property offering is the search and social platform itself, with a database of users and their preferences that is set to be scaled city by city throughout the USA.
Built on a wealth of knowledge from previous event-planning and entertainment industry experience, the company is well poised to take a chunk of the $21.7 billion event promotion industry. "Eventbrite just hit $1 billion in revenue, mostly from smaller events, and they have paved the way for a needy online event promotion market. Our platform is designed to reach this addressable market," says Mike Miller, founder of So, Pick A Party.
The company was founded as Socialete in May 2011 and renamed this month. Staff includes the founder and a small team with plans to add additional sales and marketing members this summer.
About So, Pick A Party:
So, Pick A Party is the easiest & smartest nightlife search guide that finds the best parties, clubs & events. Venues/organizers get targeted consumers & ticketing services. Venue clients include numerous well-known clubs, restaurants and event organizers. The company is based in Boston, MA.
For more information, go to http://www.sopickaparty.com.