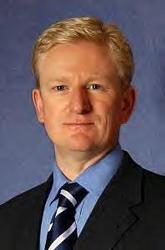 We are delighted to have Sean join our team
Dublin, Ireland (Vocus) July 21, 2009
Sorrento Asset Management has announced the appointment of Sean C. Worker as its new President-the Americas & Chief Development Officer. In addition to managing the company's Americas operations, Mr. Worker will head up global development and strategy for both Sorrento, and its subsidiary, BridgeStreet® Worldwide. Sorrento Asset Management is a Dublin-based, privately held investment group. BridgeStreet Worldwide is the leading international provider of corporate housing. Worker will provide strategic direction for both organizations with regards to real estate acquisitions and joint ventures, and will be responsible for the expansion of BridgeStreet's management and global franchise programs throughout the EMEA and APAC regions.
Prior to joining Sorrento, Worker served as Managing Director and Executive Vice President for Wyndham Hotel Group, where he was responsible for managing a portfolio of over 650 franchised and managed assets throughout EMEA, India and Asia Pacific and was a member of the board of CHI Hotels and Resorts. Previously, he held senior positions with Interstate Hotels and Resorts, Maxxim Hotels and Resorts and other leading global companies. Worker began his career with management positions at hotels in Ireland, England and Germany.
"We are delighted to have Sean join our team," commented Bryan Turley, Chairman and CEO of Sorrento Asset Management. "We are operating in unprecedented times and Sean's global experience and track record of success will assist us in recognizing and maximizing the opportunities that will arise over the next number of years."
Lee Curtis, President and CEO of BridgeStreet Worldwide added, "Sean's outstanding reputation, his leadership, and above all his experience in creating and maintaining long-term strategic partnerships, will help us to leverage BridgeStreet's development potential on a far greater scale.
Worker will be based at the BridgeStreet Worldwide Global headquarters in Herndon, Virginia.
Sorrento is a leading international investment management group with headquarters in Dublin and offices in London, Paris, New York, Chicago and Washington DC .To learn more about Sorrento Asset Management view http://www.sam.ie or email info (at) sam (dot) ie or call +353 1 293 2800
BridgeStreet Worldwide is a leading international provider of corporate housing. BridgeStreet and its Global Alliance members offer over 15,000 corporate apartments located throughout the United States and 50 cities internationally. An award winner both in the U.S. and Europe, BridgeStreet properties meet uncompromising standards of quality, comfort and service. For more information about the company or to learn more about how BridgeStreet is Making Corporate Housing Easy, visit http://www.bridgestreet.com or call 1-800-BSTREET.
Press Contact:
Kelly Murphy - Sorrento Asset Management - US - +01 813 909 2445
###