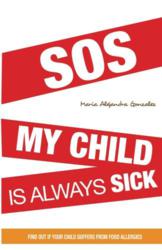 If you have visited different doctors and, even though you follow the treatment, your child is still sick, this book can help you.
Dallas,TX (PRWEB) September 06, 2012
In SOS My Child is Always Sick! discover if your child's symptoms are related to food allergies. Having the correct diagnosis as well as the proper treatment, will significantly improve not only their quality of life but that of the whole family. The book will help family members know more about food allergies and become an effective support in their recovery.
"Although there is a lot of scientific literature about allergies, there are many people who suffer from food allergies or intolerance and have not yet received a proper diagnosis, which affects their quality of life dramatically." said Maria Alejandra Gonzalez.
"Some illnesses related to allergy or intolerance to food are: asthma, autism, attention deficit disorder, depression, sleeping problems, impaired growth, reflux, just to name a few. Recognizing and treating this conditions helps to improve the health of those who suffer." mentioned the author.
"You should read the book If your child has flu-like symptoms throughout the year. Or if they cough constantly and are often constipated. Also If they have problems sleeping or they suffer from unexplained diarrhea. Besides you should read it if your child is below the average height and weight for children their age. Or If you have visited different doctors and, even though you follow the treatment, your child is still sick,This book can help you," stated Maria Alejandra. "In the book you will meet with families who have lived through their own difficult situations in order to find the correct diagnosis as well as what they did to overcome them."
You can find the book on sale in English and Spanish, print and Kindle version at:
http://www.amazon.com and http://www.createspace.com/3966118
To learn more visit:
http://www.siempreenfermo.com and http://www.twitter.com/siempreenfermo