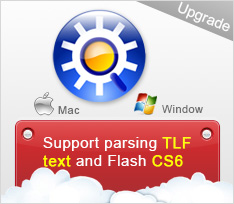 Sothink SWF Decompiler is a really professional tool allows catching and saving web Flash animation for further editing by special applications.
(PRWEB) May 28, 2013
SourceTec Software, a leading flash and web design software provider in the world, is delighted to announce Sothink SWF Decompiler 7.4 can support Flash CS6 now.
Sothink SWF Decompiler is a well-known and high-performance Flash decompiling tool helping Flash designers to convert SWF to FLA or FLEX precisely. Many people like it and chose it. With it, they can easily extract all Flash resources, convert Flash to html5 files, and replace image/shape/text/sound for SWF. It is also the first decompiler to get XFL from Flash CS5 SWF.
What it can do (video introduction):
http://www.youtube.com/watch?v=wLjVG77LKxs
To learn more about this Flash tool, please visit the websites below:
For Windows:
http://www.sothink.com/product/flashdecompiler/
For Mac:
http://www.sothink.com/product/flash-decompiler-for-mac/
SourceTec Software hopes it can help more Flash animation designers to create better animation work. And any suggestion and comment is welcome!
ABOUT COMPANY:
Established in July 1997, SourceTec Software Co., LTD. is one of the most reputable and outstanding shareware and freeware providers in the world. It specializes in Flash authoring tools, Multimedia, Video and DVD software with the vision of bringing better user experience. SourceTec Software always sticks to creatively building and delivering prominent service for worldwide range of customers. And Sothink.com is one of its subordinate official sites devoting into professional Flash authoring products and services.
CONTACT:
SourceTec Software Co., Ltd.
http://www.sothink.com
Customer Support
support(at)sothink(dot)com