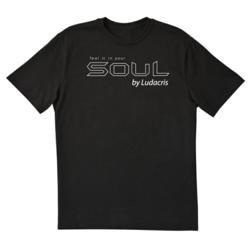 South Hackensack, NJ (PRWEB) November 08, 2011
Headphones.com, a leading online retailer for headphones and headphone accessories is happy to announce that they have teamed up with SOUL by Ludacris to offer customers a t-shirt with all qualifying purchases. Any customer who purchases a SOUL by Ludacris headphone between now and December 15, 2011 will receive a custom t-shirt only available from Headphones.com.
SOUL by Ludacris headphones are the latest addition to the celebrity endorsed headphone selection available on Headphones.com. Chris Bridges, more commonly known as the rap artist Ludacris, has teamed up with Signeo USA to produce this high quality line of headphones. Models available include the SL49, SL99, SL100, SL150, and SL300.
The SL49 and SL99 are in ear headphones (earphones) which allow for maximum portability without sacrificing sound quality. The SL100 and SL150 are an 'on ear' style headphone that provide ample bass without overpowering the midrange and higher frequency sounds.
The flagship SL300 model includes extraordinary noise cancelling abilities and boasts superior sound quality, comparable to headphones normally found in a higher price range. The SL300 features a comfortable headband and earpads which allow for extended undisturbed listening sessions.
Headphones.com is part of the AlltecStores network. The AlltecStores network consists of several specialty e-tail websites focusing on audio-visual and technology products. It's main website, AlltecStores.com is parent to several others e-commerce sites, including Headphones.com, ProjectorScreenStore.com, AllCartStore.com, PodiumAndLecternStore.com, AllWhiteboards.com, ProjectorBulbsandLamps.com, NationalAVSupply.com and more. Manufacturers interested in having their products on Headphones.com should contact pr(at)headphones(dot)com. For more information visit http://www.headphones.com.
###