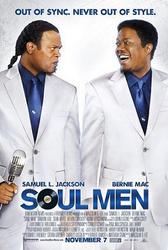 I really felt Anthony was the perfect artist to bring that classic feel and still give an original voice to the song. I had wanted to work with Anthony for some time, so this was the perfect opportunity. He is a great artist and a beautiful human being
Los Angeles, CA (PRWEB) November 3, 2008
When award winning writer/producer Frank Fitzpatrick was asked to create a classic hit representing the signature Memphis Soul era for Samuel L. Jackson and Bernie Mac to sing in their upcoming film, he knew exactly what to do. Soul Men director Malcolm D. Lee needed a song that sounded like it could have been the Real Deal's (the film's fictitious band featuring Jackson, Mac and Grammy-winning John Legend) number one song from the height of their career -- 1969. In a line up of unforgettable classics like I'm Your Puppet, Memphis Train (Rufus Thomas), Do Your Thing (Isaac Hayes), Soul Dressing (Booker T & the MG's) and I Take What I Want (Sam & Dave), the request might have been a tall order.
But Malcolm loved the song and the filmmakers decided to make Soul Music the title track. Fitzpatrick then brought in six-time Grammy nominated Anthony Hamilton to record the song for the film and for the first single off the soundtrack album on Concord/Stax Records.
"I really felt Anthony was the perfect artist to bring that classic feel and still give an original voice to the song. I had wanted to work with Anthony for some time, so this was the perfect opportunity. He is a great artist and a beautiful human being," commented Fitzpatrick.
The song was recorded in Memphis to uphold the integrity of the era and the sound of the older Stax classics. Fitzpatrick produced a second version of the song, featuring members of his old band Hidden Faces, for the film's Main Title sequence. The single featuring Hamilton closes the film, accompanying a tribute to Bernie Mac.
The story is not all happy endings, as the film also marks the last performances by entertainment icons Bernie Mac and Isaac Hayes, who passed away unexpectedly just one day apart from each other in early August. "We were all shocked to learn of their passing. Isaac had a profound musical influence on me and I have truly fond memories of working with Bernie on prior films -- both were inspiring entertainers and amazing people. I feel honored to have been part of the film and to have had the opportunity to pay homage to the music we all loved and shared," said Fitzpatrick, who joined co-star Samuel L. Jackson and director Malcolm D. Lee, along with many others, to pay tribute to Mac and Hayes at the Apollo Theater, where the film premiered on October 28th.
Growing up in Detroit with the Motown Sound, Fitzpatrick was immersed in classic Soul and R&B. He credits those early influences for inspiring his work with other contemporary artists including Jill Scott, K-Ci & Jojo, Les Nubians, Ice Cube and Dave Hollister.
Soul Men will be released nationwide November 7, 2008 (Dimension Films/MGM). The soundtrack, featuring additional music from Isaac Hayes, Anthony Hamilton, John Legend, Sharon Jones and The Dap Kings, will be released November 4th (Concord/Stax Records).
Other mixes of Soul Music, including an "Old School Mash Up" are available exclusively on iTunes . You can learn more about Frank Fitzpatrick at http://www.frankfitzpatrick.com.
# # #