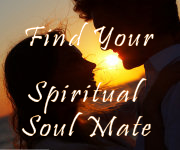 It's important to embrace being single and honor the state of not yet having a mate.
Philadelphia, PA (PRWEB) January 30, 2013
When Rev. Laurie Sue Brockway created the online soulmate course"Find Your Spiritual Soul Mate: Transforming Your Romantic Destiny with A Romantic Resumé" for Self Healing Expressions.com, the goal was (and remains) to:

Help people rise above the disappointment of the love they haven't found.
Heal the hurts from the past.
Create the love they desire by letting go, moving on.
Clarify what they long for in a relationship.
As Valentine's Day draws near, the quest for a date remains an enduring quest for many singles. "The holiday of hearts is heralded as a time to be wined, dined and treated like a Goddess or God. Valentine's Day is a 'concept' that has captured our fancy as the ultimate date night. By the time February 14th rolls around, no one wants to miss out on dinner, chocolates, flowers, and a mushy card with a love note," states soulmate course author and instructor Rev. Laurie Sue Brockway.
She adds, "Be this as it may, this can be stressful! We build up our expectations and begin to believe there is only one day of the year that we'll have a chance for an awesome romantic evening. If it doesn't happen, it's disappointing. For those who are single and searching this Valentine's Day, do not despair! For now, suspend the search for 'The one'. Instead, take time to focus on yourself and to clean up stuff you no longer need, get your life in order, and simultaneously, get ready for love."
In the spirit of her popular soulmate course, here are four tips by Rev. Laurie Sue to help singles get ready for true love:
1. Take responsibility and do your part.
A soulmate may help you heal but he or she can't be responsible for fixing you. It is therefore important that the process of releasing old beliefs, healing broken hearts and letting go of baggage from relationships past is well underway before we tango with new love. If healing has not begun and progressed through - via therapy, grief work, spiritual practice, self-help or some other form of transformational work, we risk being needy and over anxious. We could well jump into the wrong relationship.
2. Don't hate being single.
Do you find yourself constantly lamenting, "Will I ever find love?" Try and embrace being single and honor the state of not yet having a mate. It's important to use time as a single person to prepare for being in a relationship. Some people hate being single but the truth is, the time of longing and yearning for love is the time to prepare for real love by assessing your life and creating the life you want to be leading.
3. Let your imagination lead you closer to the love you desire.
There are many practical and spiritually creative ways to raise spiritual and vibrational forces to help draw in your true love. Begin to imagine the love you want then psychically tune into that love. Write, visualize, daydream, pray, and love your way to a great relationship. Cut out magazine pictures of couples in love, makes lists and write stories about the relationship you choose, use any creative tools you are comfortable with to ask for all the divine help you can get! Get together with a friend or friends who are also getting ready for love and support each other with the process.
4. Pay attention to signals and intuition.
Our souls continuously urge us forward. We are given subtle intuitive messages, signs and sometime warnings. We are given directions to follow, inspiration for places to go and people to see, and guidance on every level. When Spirit begins to "do its thing" of bringing us together, don't get caught asleep at the wheel or be so absorbed in mundane living that you do recognize love when it knocks on the door.
Rev. Laurie Sue Brockway is a widely recognized as an expert on interfaith, intercultural and nondenominational weddings. She is the author and instructor of the Self Healing Expressions soulmate course, Find Your Spiritual Soul Mate: Transforming Your Romantic Destiny with A Romantic Résumé and author of the ebook Rituals for Love and Romance: Attract Your Soul Mate with Self-Love and Ceremony.