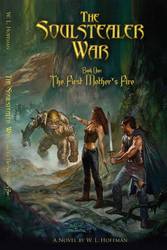 This is one of the best fantasy books… within the past couple of years.
Princeton, New Jersey (PRWEB) March 12, 2009
Released in January 2008, The Soulstealer War: The First Mother's Fire, is the first book in an epic fantasy series of magic and mysticism by debut author W.L. Hoffman. Despite the risks and challenges inherent with self-publishing, the novel's critically acclaimed content has propelled Hoffman from relative obscurity to placement on Barnes & Noble's shelves. In August 2008, due to demand, a second printing of the novel was completed in traditional offset lithography format. Ingram is the distributor. For a new author, the learning curve has been steep - and a dream come true - but one replete with trials and tribulations. There's a story in that journey in addition to the novel's unique fantasy vision that touches upon philosophy, the universe and true magic. The novel also features dazzling original cover art by the esteemed Boris Vallejo and Julie Bell. BookExpo America 2009 held in New York City is the next career step for Hoffman who knows that beyond talent, it takes perseverance and luck to succeed as a writer. While he hopes this opportunity will bring heightened access to readers and mainstream publishers, Hoffman is thrilled to participate in this milestone.
"This is one of the best fantasy books… within the past couple of years." Roundtable Reviews
"Indeed, it is the mark of good genre fiction that it is able to transcend its foundations and shake the very rafters of existence. Douglas Adams did it with his Hitchhiker's Guide series, Tolkien did it with his Middle Earth, and now W. L. Hoffman has done it with the beginning of The Soulstealer War series." Front Street Reviews
"Highly recommended for community library fantasy collections and for fantasy lovers in general…" Midwest Book Review, Small Press Bookwatch Vol. 7, No. 5
About the Book: Unemployed after graduation, Kenneth McNary seeks inspiration on the Appalachian Trail. He never suspected that it would find him first. Ken is transported to a fairytale world by a god-like sentience and is tasked with uniting its denizens for a coming war--a war with eternal consequences for every soul consumed by the Enemy. While grappling with his strange surroundings, Ken learns that humans are slaves to near-immortal beings who have lost their magic. Complicating this situation is a mysterious new race of magic wielders and the reappearance of subterranean, flesh-eating creatures long thought extinct. To survive and embrace his destiny in a land hostile to humanity, Ken must discover the Fire within. But he faces two problems: he is a novice pitted against masters, and the magic may kill him before the masters do.
About the Author: W.L. Hoffman was born in the 1960's in Atlantic City. Hoffman's interest in reading fantasy and science fiction was voracious from an early age. He took advanced English curricula through high school, received his BA in English from Duke University and attended English literature classes at New College at Oxford University in England. Following his introduction to legislative drafting while serving in the Duke University student government, Hoffman obtained his JD from Cornell Law School. While there, his dreams wandered into strange realms as he quested for life's higher meaning. Thus was born the foundation for The Soulstealer War. Hoffman currently resides in central NJ with his wife and daughters. He enjoys spending time with his family in their organic vegetable garden, exploring the Sourland Mountains, and telling tales on the front porch to the next generation of dreamers and writers.
The Soulstealer War: The First Mother's Fire
By W.L. Hoffman, Soulstealer War Website
Publication Date: January 2008, Dog Ear Publishing
ISBN-13 (Paperback): 978-1598-585-391 ISBN-10 (Paperback): 1598-585-398
Price: $14.95 - 284 Pages
BookExpo America 2009, Booth 5109, May 28 - May 31, Javits Center, New York City, NY
For more information: 908-431-1660
###