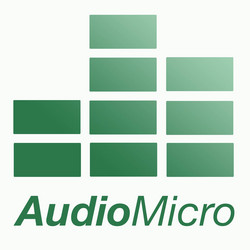 Blastwave FX pushes the envelope in sonic quality, selection, format, and delivery
Los Angeles, CA (PRWEB) April 7, 2009
AudioMicro.com announces the addition of the Blastwave FX sound effects library, adding over 32,000 professional quality, royalty free sound effects to its online archive. Headed by Ric Viers, author of the "Sound Effects Bible," the Blastwave FX collection is well known for being a comprehensive, progressive, original collection.
"Blastwave FX pushes the envelope in sonic quality, selection, format, and delivery," said Viers. "Our affiliation with AudioMicro gives independent media creators a slick and easy way to access our sound effects and production elements."
Categories within the Blastwave FX collection include ambience, animals, impacts, guns, science fiction, whooshes and everything in between. The addition of Blastwave FX brings AudioMicro's total file count to over 75,000 stock music and sound effects tracks, all pre-cleared for use in creative audio-visual productions.
Last week, AudioMicro released an iPhone application containing over 500 high quality sound effects. Effects included in the app were contributed by Blastwave FX and members of the stock audio community. 50% of the apps net proceeds are remitted directly to the sound designers and composers that contributed to the app. The app can be directly downloaded by following this link or by visiting the App Store from an iPhone or within iTunes and searching "AudioMicro".
About AudioMicro
AudioMicro is a collection of user-generated royalty free music, sound effects, production music, and music cues. The platform offers advertisers, music supervisors, creative directors, webmasters, filmmakers, and "YouTubers" an affordable, quality solution for securing sync music for use in creative audio-visual projects. With content purchased from AudioMicro for as little as $1 per minute, a movie or webisode can be scored at a fraction of the cost of a traditional production library. The AudioMicro collection is an ever-expanding archive of pre-cleared tracks from publishers, composers, independent bands, and sound designers worldwide.
About Blastwave FX
Blastwave FX develops leading HD sound effects libraries for professional audio production. The design and engineering teams push the sound envelope with pioneering product formats, rich metadata, multi-channel libraries and the highest resolution audio that technology allows. Blastwave FX libraries, including flagship SONOPEDIA, serve as royalty-free creative resources for audio professionals worldwide in post, broadcast, film, television, video games, animation, radio, new media and beyond. Blastwave FX is based in Detroit, MI and is headed by Ric Viers, author of The Sound Effects Bible.
Media Contact:
Ryan Born
AudioMicro, Inc.
audiomicro (at) audiomicro (dot) com
800-804-2171
###