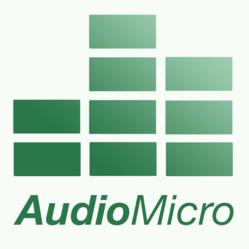 "We are pleased to make our sounds available through AudioMicro, a real innovator in the marketplace."
Los Angeles, CA (PRWEB) April 27, 2012
AudioMicro.com announces the addition of the Sound Ideas sound effects library, adding over 100,000 professional royalty free sound effects to its online archive. Headed by Brian Nimens, an audio veteran with more than 35 years experience, Sound Ideas offers an immense variety of contemporary and vintage sound FX keeping its ears tuned to the current and future needs of sound designers and producers.
"We are pleased to make our sounds available through AudioMicro, a real innovator in the marketplace," said Nimens.
Categories within the Sound Ideas collection include ambience, animals, impacts, guns, production elements, science fiction, whooshes, and everything in between. The addition of Sound Ideas brings AudioMicro's total file count to over 300,000 stock music and sound effects tracks, all pre-cleared for use in creative audio-visual productions.
In addition to the 100,000 new sound effects from the Sound Ideas library, AudioMicro has launched a new version of its website, targeted at purchasers of royalty-free-music and sound effects, including YouTube users, iPhone/iPad app developers, and film/TV producers. New visitors to AudioMicro.com will find a completely revamped user interface and design, making it a rich and simple destination for discovering and licensing stock audio.
Visitors to the new AudioMicro experience improved utility and design, including:

A slick HTML5 audio player which allows users to more easily browse the archive and locate the perfect cue or effect for their projects
Pay as you go, dollar based pricing – the credit based purchasing system has been retired
A simplified end user license agreement that allows tracks to be purchased once and used over and over again in multiple projects by the same buyer
Embeddable Tracks - embed your favorite tracks on websites, blogs, Facebook, etc.
Customizable Favorites Lists – create multiple favorites collections to preview your favorite tracks on the fly, before you buy
API Integration – the AudioMicro API allows approved partner platforms and resellers to create highly customizable applications utilizing the AudioMicro library. Early API partners include SlideRocket, Hark, and Amana Images (Japan)
Brand new content and features to be announced over the coming months
About AudioMicro, Inc.
AudioMicro, Inc. operates a network of digital content licensing brands, each targeted at a specific vertical – royalty free music, sound effects, celebrity pictures, and YouTube monetization. The company is venture-backed by DFJ Frontier and Fotolia LLC. For more information, visit AudioMicroInc.com.
About Sound Ideas
Founded in 1978, Toronto-based Sound Ideas was the first company to release sound effects libraries on compact disc, and the first to release the sound effects library of a major motion picture studio. The company publishes more than 1,000 CDs and more than 150,000 sound effects. It continues to adapt new technology in order to offer quality audio to professional sound designers and producers in the broadcast, post-production and multimedia industries.
Media Contact:
Paige Schoknecht
Prequent, Inc. (for AudioMicro, Inc.)
(818) 651-6311
hello(at)audiomicro(dot)com