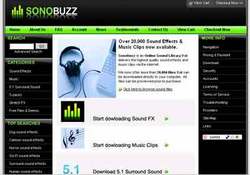 We are really excited about launching Stretch FX, which we see as the beginning of a new line of products and services aimed at multimedia developers, such as Adobe Flash developers
(PRWEB) August 18, 2008
Get ready to make some noise with Sonoport Pte Ltd's exclusive Stretch FX audio algorithm at Sonobuzz.com. This technology allows users to create and purchase their own sound effects online, incorporating twelve preset sound models, each with their own sliding variables in the visual interface. The originality and flexibility that Stretch FX offers to professionals and amateur enthusiasts in media production is unprecedented in the online .wav sound effects market.
Stretch FX represents the birth of a new model for the creation and distribution of sound effects on the internet.
Brothers Daniel and Fredrik Brostrom, Joint Managing Directors of Sonoport Pte Ltd, established Sonobuzz.com to not only streamline the acquisition of .wav sound effects for media professionals, but to empower the legions of audiophiles creating their own videos and podcasts for sites like YouTube.com and Apple.com.
"We are really excited about launching Stretch FX, which we see as the beginning of a new line of products and services aimed at multimedia developers, such as Adobe Flash developers," says Daniel Brostrom. "We want developers throughout the world to easily be able to create their own sound effects in an innovative way without having to invest in expensive equipment."
With over 20,000 .wav sound effects available for direct download, Sonobuzz.com has grown through alliances with high quality content providers. "Digiffects and Blastwave have given us a solid foundation to build upon," says Daniel.
Brostrom continues, "We are now focusing on bringing in lesser known providers who have high quality content they want to make available to the masses." This strategy creates a sales channel for original sound effects, and will serve to further augment Sonobuzz.com's comprehensive catalog of royalty free sound effects. Stretch FX is the product of numerous hours of development and opens up countless possibilities for its users, pushing their imagination as far as they can stretch."
The Sonobuzz.com libraries include effects as diverse as real world sounds such as animals and thunderstorms, and animated 5.1 Surround Sound Effects. The online shopping portal is open 24 hours a day, seven days a week, and only requires a browser and an internet connection. Moreover, all files may be previewed in both .wma and .mov formats prior to purchase. Customers are not required to open an account to purchase sound effects.
For more information, visit Sonobuzz.com.
About Sonoport Pte Ltd:
Sonoport Pte Ltd is a digital media company based in Singapore, with offices in Sweden as well. Joint Managing Directors Daniel and Fredrik Brostrom are from Sweden, grew up in England, and presently reside in Singapore. Daniel studied Film and Television at Bournemouth College of Art & Design and then went on to found Creative Disc Productions Ltd, which developed corporate CD-ROM presentations. Fredrik has a degree in Media and Business Studies from Manchester University and has worked as an AVID editor in Soho, London and Hong Kong.
###