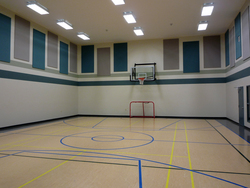 "I wanted to let you know that we are SO pleased with our new panels. We hired someone to install them- and the difference was immediately noticeable. Guests have responded positively and we are happy to have put our "echo" issue to sleep.
Minneapolis, MN (PRWEB) July 16, 2010
Large, open spaces in public venues can deliver harsh, unwanted sound wave reflections that will distort the acoustics in the room and render it useless. From Fellowship Halls to Gymnasiums, Sanctuaries, to Classrooms, Restaurants to Offices, and your own Home Theater, sound signals become blurred by echoes that drown out original sound. Rooms that are not properly conditioned for sound control become obsolete, unusable, and drive public traffic away to more favorable venues.
NetWell Noise Control based in Minneapolis, MN, is proud to announce the release of their new line of architectural panels called Fabric Panels. These colorful, class A fire rated sound panels are the ideal answer to poor room acoustics. By evenly spacing a set of these wall or ceiling mounted sound panels around the perimeter of a room, up to 85% of the unwanted echoes in the room will be captured and converted. With enough of these first wave sound reflections in the room eliminated, greater clarity to original sound is produced. This generates a better learning environment, a more comfortable conversational space, greater clarity to original speech, and better harmonics for musicians.
For more information on how these decorative soundproofing panels can benefit your space, and for free samples and a quote, contact NetWell Noise Control at 1-800-638-9355 or online at http://www.eSoundproof.com.
# # #