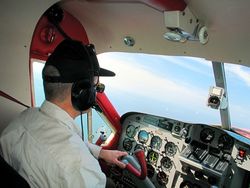 Sound Flight is really an unpretentious staple of Northwest Flying and over the last 4 years has built upon the original mission of the company, virtually starting over from scratch, four years ago, and we are pretty proud of our progress
Renton, WA (PRWEB) August 3, 2007
Quietly nestled next to Boeing's 737 factory at the Renton, Washington, airport, amidst all of the major construction, Sound Flight, Inc. has consistently doled out flights on float and land planes for the past 20 years. In 1987 Mark Schoening bought a Cessna 185 on floats and began personally guiding fishing tours to Vancouver, B.C., accumulating thousands upon thousands of flights. This morphed into a seaplane service with multiple aircraft flying people and supplies to the West coast of the island. Travelers now enjoy direct service from Renton, Washington, to Tofino, B.C. by land or air and to places only float planes can go, like the Eagle Nook Resort and many others.
In 2004 that book of regular business was sold to Kenmore Air but the FAA certificate, part 135 for all you aviation aficionados, was later sold to current owner Dr. Mike Brown, one of the founders of the international medical assistance company Maritime Health Services, which was sold to Singapore based AEA International.
Dr. Brown, like many of the seaplane and Pacific Northwest pilots, is the quintessential gray haired and laid back aviator. He gets his adrenaline from his day job serving the Seattle area as a 20-year veteran emergency room physician. Flying float planes is just his way of relaxation. For the past three years Mike and General Manager Chris West have kept the company close to its fishing roots. These days, the company is growing because, seeing an opportunity to break away from the highly seasonal Vancouver Island vacationers, they added features to the company toolbox that make Sound Flight one of the most unique flying operations in the Northwest.
When the FAA certifies a float plane operation the basic certificate allows flights during the day in decent weather. Sound Flight, under the tutelage of Chief Pilot Tom Lee, has added not only an IFR (Instrument Flight Rules) endorsement to the certificate allowing them to fly at night and in bad weather, they have added a medical certificate and have recently brought on-line a pressurized Cessna 421 capable of a 20-minute conversion to an air ambulance for accompanied patient transport. During normal operation the Cessna 421 is configured for executive flight and used to charter passengers around the region in style. When an air ambulance call comes in, the aircraft is configured immediately to accommodate a special stretcher and medical personnel who then fly in comfort at 200 miles per hour to places over 1,000nm away.
All this adds up to a lot of people who want and need to fly to places near and far on land or sea, so after 20 years, Sound Flight hired Travis Brandt as the Business Development Manager to help control the growth and direction of the company.
"Sound Flight is really an unpretentious staple of Northwest Flying and over the last 4 years has built upon the original mission of the company, virtually starting over from scratch, four years ago, and we are pretty proud of our progress," boasts Chris West. "We are proud of our past and excited about our future. Within a few short months, we are going to be taking Sound Flight to higher levels of both customer service and into the flight levels. Right now though we are just focusing on our core competency to deliver stellar and discrete service to a core group of clients. We are grateful for the opportunity to continue to serve in this way and we really want to thank our customers."
Sound Flight, Inc. is a proud Washington state company, a member of the Renton, WA, and Bellevue, WA, chamber of commerce. The company web-site is http://www.soundflight.net
Contact:
Travis Brandt
Sound Flight, Inc.
206.714.0029
travis @ soundflight.net
http://www.soundflight.net
# # #