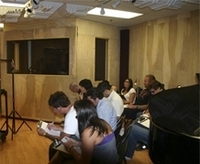 Santa Ana, CA (PRWEB) September 8, 2008
Digital Signature™, determined to educate consumers on advanced and affordable DiFi™ sound technology, has presented listeners with the ability to compare Mint's advanced multimedia speaker systems online with other speakers on the market. The results of the Sound Lab audio comparison, complete with audio clips, is now posted online at Mint Sound Lab.
The new Sound Lab addition to the Digital Signature website at Digital Signature Home, shows results for all three of the multimedia speaker systems from Digital Signature as well as each model's primary competitors. The test of nine digital stereo speaker systems involved random, blind listening by sound engineers and professional audio salespeople.
The Sound Lab experiment was professionally executed in a professional sound studio while each speaker system was recorded in a controlled environment. Visit htt[://Sound Lab Methodology to read about the methodology in more detail.
According to the Consumer Electronics Association, from an audio purchasing study, 61% of consumers, in the last two years, listened to a product before purchasing. That percentage rises to 92% among consumers who believe they would listen to a product before purchasing in the next three years. With today's informed consumer and the saturation of consumer electronic speaker systems, the ability to listen to a product before purchase is more important than ever. However, even in a retail environment, many stores do not facilitate a one-to-one comparison as consumers wish. Because of Digital Signature, consumers will be able to compare comparatively priced speaker systems from the comfort of their own home.
Digital Signature saw an opportunity to present to the consumer a comparison of speaker systems that are closely priced to each of the three Mint multimedia speaker systems. The website provides insight into the purpose, methodology, results and sound bytes from the Sound Lab experiment. This breakthrough method of providing credible sound quality comparisons again demonstrates Digital Signature's leadership in wireless digital audio for iPod and PC/Mac.
About Digital Signature
Digital Signature brings advanced digital acoustic design paired with top grade components to popularly priced multimedia speaker audio systems for iPod and PC/Mac for the first time. Powered by digital amplification control and wireless transmission techniques created by Digital Signature, the result is a full product line of multimedia speaker systems with dynamic sound at unheard of prices. Digital Signature has branded this new approach to audio quality Di-Fi™. Digital Signature is on the Web at Digital Signature Home.
Editor Contact:
Rob Schraff
Content and Publicity Manager
(949) 837-7600 x239
rob.schraff@949inc.com
###