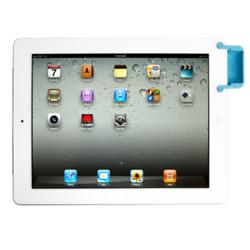 "I wanted to give new backers a reason to pledge and existing backers a special gift," said SoundBenderTM Creator Moshe Weiss
Minneapolis, MN (PRWEB) August 06, 2012
The SoundBenderTM amplifier, a magnetic, power-free sound enhancer for the iPad, is going into the second half of their Kickstarter funding campaign. To celebrate the milestone, they have released new rewards for backers of the product including two new rewards for US backers.
The rewards give a chance for people who missed out on the Early Bird Special reward, but still want the SoundBenderTM. For $12, backers can chose either a black or white SoundBenderTM amplifier and for today only, all backers can add $5 to their pledge and receive a special edition Kickstarter Green SoundBenderTM amplifier. This reward (add-on) will expire at 11:59 PST on August 6.
"I wanted to give new backers a reason to pledge and existing backers a special gift," said SoundBenderTM Creator Moshe Weiss. "I am excited to see what the second half of the campaign brings."
Additionally, a new distributor reward has been created. One backer pledging $5,000 or more will receive the "deal of all deals". The backer will receive 1,000 SoundBenderTM amplifiers, 500 black and 500 white. These will come ready to sell in the retail packaging.
SoundBenderTM amplifier met its initial funding goal of $4,500 on June 29. Creator Moshe Weiss has a stretch goal of $10,000 and is more than halfway there.
With 12 days left, people continue to back the popular iPad amplifier coming to 400 backers so far. "I am uber-thrilled about the response we've had and appreciate my Bender Backers so much! I hope we can surpass 500 backers and go beyond our stretch goal soon!" said Weiss.
To follow the project or to pre-order your SoundBenderTM amplifier, visit their Kickstarter page.