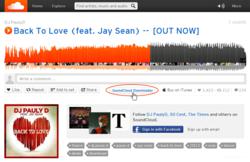 Users who installed SoundCloud Downloader go to more concerts, buy more T-shirts and posters, as well as download more songs from iTunes than they did before downloading the application. All in all, users have attested an average increased spending of 28%
(PRWEB) March 01, 2013
SoundCloud Downloader, the application allowing users to download any track from SoundCloud with a single click, reveals today encouraging results from its first online survey.
According to the survey, users who installed SoundCloud Downloader go to more concerts, buy more T-shirts and posters, as well as download more songs from iTunes than they did before downloading the application. All in all, users have attested an average increased spending of 28% on music and music-related merchandise after installing SoundCloud Downloader.
Other findings show that SoundCloud Downloader users spend on average 4 more hours a month on SoundCloud, during which they focus mainly on discovering new artists. SoundCloud Downloader is one of the most popular free downloaders for SoundCloud and can be downloaded from CNET at: http://download.cnet.com/Soundcloud-Downloader/3000-2381_4-75738300.html
"Although the results seem unintuitive, we were not at all surprised," explains Melanie D'Angelo from PC-Gizmos, the group that developed SoundCloud Downloader. "Our users use SoundCloud Downloader because they love music, and our downloader is the easiest way to get more of it." The results are also right on trend with other similar recent findings, such as the study done by The American Assembly, showing that filesharers spend 30% more on music than non-P2P users."Thanks to SoundCloud Downloader, our users become more knowledgeable listeners. They discover more new artists, they consume more music, and their loyalty to SoundCloud grows," asserts D'Angelo.
"I love discovering new artists on SoundCloud, but sometimes I'm late and discover them only after they have reached their download limit,"says James Polk, an enthusiastic SoundCloud Downloader user. "With SoundCloud Downloader, I can keep on downloading music and get to know more artists. I go to more music concerts too, which is really what I love doing most. Having the music of artists with me makes me connect with them more and really want to go see their show."
"Ever since I installed SoundCloud Downloader I feel much more motivated to discover new artists" says Helen Baylor, another content SoundCloud Downloader user. "It's not even that I download that many tracks! It's knowing that I could download if I wanted to that gets me going."
SoundCloud Downloader is a pioneering application freeing users from any download limitations on SoundCloud. SoundCloud Downloader integrates with the SoundCloud interface adding a 'Download' button to every single track on SoundCloud, allowing users to download any track they want regardless of who the artist is or how many tracks have already been downloaded by the user.Unlike other solutions existing in the market, SoundCloud Downloader is extremely easy to use and does not require any effort or technical knowledge from the user.
Soundcloud Downloader can be downloaded for free from CNET at http://download.cnet.com/Soundcloud-Downloader/3000-2381_4-75738300.html or from http://www.pc-gizmos.com/gizmos/soundcloud-downloader/
PC Gizmos is an online group passionate about tweaking the web and giving users those extra features they've always wanted. We believe no website should be taken for granted. This is our passion, not our job. Our gizmos are free and we create them on our free time. So basically, we're just here to tell you we created a great program that we're sure you'd love.