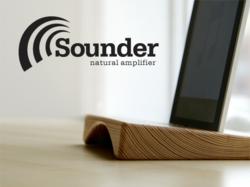 "Through trial and error, we arrived at a design that optimizes the iPad's sound output for frequency ranges that include the human voice, as well as brass and string instruments including the piano," Howard Fink
Charlotte, NC (PRWEB) July 11, 2012
The iPad is a wonderful, portable device for listening to music and podcasts, as well as watching movies. Unfortunately though, the sound quality of the iPad leaves a lot to be desired.
A new device called Sounder will give iPad owners a much better listening experience, while adding a touch of class to their nightstand, kitchen counter or office desk. It is currently available for pre-order on Kickstarter and will ship in October.
Made from reclaimed, old-growth lumber, the Sounder is a carved piece of wood that amplifies the iPad's sound. Featuring a simple, elegant design, it doesn't require any wires or plugs. When placed on a hard surface such as desktop or table, the Sounder creates a megaphone type effect, effectively doubling the sound output of the iPad.
Sounder—Amplifying The Sound of the iPad Naturally
The secret to Sounder's amplification power comes from a special slot that holds the iPad at the perfect angle. Sound from the iPad speaker is directed into the horn, an inverted semicircle that is hollowed out into the Sounder's base.
New York inventor Howard Fink, along with his business partner Jim McNally, developed the concept for Sounder and are looking to raise $50,000 by July 21, in order to buy the materials and began production in Fall 2012.
"We set out to design something that was both beautiful and functional," Howard Fink said. "Through trial and error, we arrived at a design that optimizes the iPad's sound output for frequency ranges that include the human voice, as well as brass and string instruments including the piano."
Pricing for the Sounder starts at $75 each for Kickstarter backers.
Bringing The Sounds of Coney Island Boardwalk, Old Buildings To Life
For each Sounder, McNally and Fink are using reclaimed lumber from old buildings and even the famous Coney Island Boardwalk. "The types of wood we use are among the most durable in the world," McNally said. "So instead of cutting down trees or molding plastic, we are recycling this gorgeous wood into a work of art that adds to pleasure of listening to music on the iPad."
For more information and to order the Sounder, visit http://bit.ly/SounderKS.