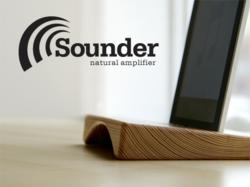 "We have put a lot of time and effort into our product, and I am excited about the opportunity to bring on a firm who will help us reach our goals," said Sounder Industries Partner Jim McNally
Charlotte, N.C. (PRWEB) June 27, 2012
The Sounder Natural Amplifier, from Sounder Industries, is an iPad stand and a natural amplifier that doubles the volume of your iPad. Sounder Industries has retained Command Partners to be its Internet marketing agency for the company's Kickstarter funding campaign.
Sounder Industries is running a campaign on the popular crowd funding website Kickstarter, with the goal of raising $50,000. The campaign began on June 1 and has raised $1,331 to date. The opportunity to back the project officially ends at 5:37 P.M. EDT on July 21.
"We have put a lot of time and effort into our product, and I am excited about the opportunity to bring on a firm who will help us reach our goals," said Sounder Industries Partner Jim McNally. "Our product is unique, and we believe this will be a big success."
The amplifier is made from wood salvaged from 19th century buildings and features a sleek look. The amplifier has no wires and needs no batteries. The sound is amplified by the horn shape on the bottom.
"We have experience working with Kickstarter projects, and we know the creativity and effort that is needed to help a project fund successfully," said Command Partners Chief Strategy Officer Amish Shah. "The iPad world has many accessories, and the Sounder Natural Amplifier is one the most unique we have seen. We are confident there will be a lot of demand for it."
To pre-order your Sounder Natural Amplifier, visit http://bit.ly/SounderKS.