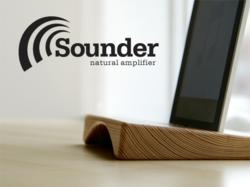 Charlotte, N.C. (PRWEB) July 17, 2012
Want to double the sound output of your iPad naturally, without wires or plugs? There's a device for that.
Known as the Sounder, the device is made from 100% reclaimed wood. It will give iPad owners a much better listening experience, while adding a touch of class to their nightstand, kitchen counter or office desk. Sounder is currently available for pre-order on Kickstarter through July 21 and will ship in October.
Made from old-growth lumber, the Sounder is a carved piece of wood that amplifies the iPad's sound. When placed on a hard surface such as desktop or table, the Sounder creates a megaphone type effect, effectively doubling the sound output of the iPad. It will also work to enhance the sound of iPhones.
For each Sounder, creator Howard Fink and his business partner Jim McNally are using reclaimed lumber from old buildings and even the famous Coney Island Boardwalk. Additionally, one tree will be planted for each Sounder sold.
Pricing for the Sounder starts at $75 each for Kickstarter backers.
For more information and to order the Sounder, visit http://bit.ly/SounderKS.
# # #