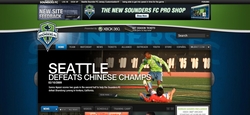 SoundersFC.com features an innovative user-centric social platform that has never been utilized before in professional soccer
San Diego, CA (PRWEB) February 12, 2009
Renton, Wash. -- The Seattle Sounders FC today launched a further enhanced team website to expedite information and create a more interactive experience for the team's growing fan base. In addition, fans interested in purchasing tickets or have questions about their tickets are now able to obtain immediate answers online via a live chat application managed by Sounders FC ticket representatives.
As soccer's first integrated online community, http://www.soundersfc.com will allow fans to meet and interact with other fans directly on the team's website. Followers of the team will also be able to add commentary and contribute their own content, including videos, photos and blogs.
The site also features advanced matchday features, a mobile accessible version and advanced calendar downloading options - including support for Microsoft Outlook, Google Calendar, Apple iCal and others. All features will be available to fans by the Sounders FC first regular season home match on March 19.
"SoundersFC.com features an innovative user-centric social platform that has never been utilized before in professional soccer," said Sounders FC Director of Marketing & Partnership Development Bill Chapin. "Inviting the fans to provide user generated video, photos and blogs stays consistent with our organizational theme of Democracy in Sports."
The new site will also offer an advanced video experience and will allow fans to download video to media devices such as the XBOX 360, Zune and iPod. Fans may also add SoundersFC.com video content to third party websites.
"The Seattle Sounders FC asked us to come up with a design that reflects the unique experience on the field," said Daniel Khabie, CEO of Digitaria, a leading digitial marketing and technology firm. "Our team went far beyond team colors to bring the players, the field and even the stadium into the online experience. We are extremely pleased with the outcome and we know fans will be too. We look forward to seeing them interact with the site on a regular basis this inaugural season."
The team also launched a stand alone e-commerce and merchandise site at proshop.soundersfc.com. The site features enhanced elements such an expanded zoom and rotational views on individual products, a streamlined checkout process, expanded search capabilities and improved design.
"It's no longer enough for sports fans to go to a website and read news and information -- fans today want a fully immersive interactive experience in which they can engage with the team and other fans," said John Van Spyk, general manager of [Digitaria Sports, which caters to sports organizations worldwide. "SoundersFC.com is truly at the cutting edge of major online sports destinations when it comes to creating this type of online community. Fans can create their own profiles, upload content and photos, provide feedback, and communicate with other fans. They can even buy season tickets based on their personal rooting preferences."
For more information visit http://www.soundersfc.com or http://www.digitaria.com
###