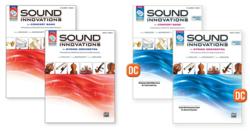 It is gratifying to see how Sound Innovations has been able to help teachers create exactly the method they have always wanted.
- Robert Sheldon, co-author of Sound Innovations
Los Angeles, CA (PRWEB) May 31, 2011
In the days of school budget cuts and alternative learning environments, music classrooms come in all shapes and sizes. To help music teachers make the most out of their time with their students and teach most effectively, Alfred Music Publishing has created a revolutionary technology that allows music teachers to customize their music curriculum based on the needs of their unique classroom, school, or district. This month, Alfred added new features to the product, which debuted in August 2010.
As the first customizable textbook in music publishing, the Sound Innovations series of method books for concert band and string orchestra, combines solid music pedagogy based on music education standards, time-tested educational concepts, and advances in modern technology—all of which is tailored to teachers' needs. The core of the methods are written by renowned educators Robert Sheldon, Bob Phillips, Peter Boonshaft, and Dave Black. Using an online ordering platform, teachers build their books by selecting the order and pace of teaching new concepts, along with the amount and type of reinforcement exercises needed.
Additionally, for the first time ever, teachers can select which songs students play as exercises to reinforce important concepts—including current pop songs or themed playlists—which facilitate student motivation and greater tie-in with other subjects. All of the customization is topped off by personalizing the cover and, just added, the introductory page.
To supplement classroom learning and facilitate at-home practice, each student book includes a DVD of master classes taught by professional teachers and musicians, an MP3 disc with demonstrations and play-along tracks of every single exercise in the book, and access to the book in SmartMusic, a popular interactive at-home practice software.
"From day one, we have been using teacher feedback to build this method, asking teachers exactly what they want in a method," said co-author Bob Phillips, who serves as the current president-elect of the American String Teachers Association. "As a teacher, I always asked myself if I want to teach for 30 years or teach the same year 30 times with the same materials. Using Sound Innovations, teachers can update their method each year based on their experience and the needs of each unique class."
Sound Innovations Director's Choice provides more than 1,125,899,906,842,620 possible methods that can be created using the SI technology and the plethora of customization options available. Books are printed and shipped from Alfred's warehouse and delivered to the school. A newly-added convenient payment option allows parents to pay for student books individually.
Customization options for concert band provide the options to select a starting concert pitch and starting rhythm, and options for string orchestra provide the options to select starting bowing technique, starting pitch direction, and starting rhythm. Both editions offer the optional choice of adding note names in note heads and include additional pages of enrichment materials (theory/composition, history, ensemble, assessment, repertoire, and more). Both methods allow substitution of some of the tunes used in the book by selecting a genre (classical, patriotic, Christian, rock, and more) or replacing individual tunes.
"Everywhere I go, teachers have been anxious to talk about how they want to customize their method books for the students in their communities. It is gratifying to see how Sound Innovations has been able to help teachers create exactly the method they have always wanted," said co-author Robert Sheldon. "Every time I look at the incredible things this method can do to enhance the education of our young music students, I wish something like this had been available years ago when I was first starting out as a teacher."
Facebook- facebook.com/alfredsoundinnovations
Twitter- twitter.com/alfredSI
Blog- alfredsoundinnovations.wordpress.com
YouTube- youtube.com/alfredsimethod
For more information about Sound Innovations, visit alfred.com/soundinnovations.
ABOUT ALFRED MUSIC PUBLISHING
Alfred Music Publishing is the world's largest educational music publisher. Alfred produces educational, reference, pop and performance materials for teachers, students, professionals, and hobbyists spanning every musical instrument, style and difficulty level. Alfred's home office is located in Los Angeles, with domestic offices in Miami and New York as well as offices around the world including Australia, Germany, Singapore and the United Kingdom.
Since 1922, Alfred Music Publishing has been dedicated to helping people learn, teach, and play music. Alfred currently has over 90,000 active titles. Alfred represents a wide range of well-known publications—from methods like Alfred's Basic Guitar, Alfred's Basic Piano Library, Premier Piano Course, Sound Innovations, and Suzuki, to artists like Led Zeppelin, The Rolling Stones, Bruce Springsteen, Van Halen, Green Day, Michael Jackson, Sheryl Crow, Eagles, Cole Porter, and George and Ira Gershwin, to brands like Star Wars, Harry Potter, Lord of the Rings, Rolling Stone Magazine, and Billboard.
In addition to its own titles, Alfred distributes products from over 50 companies, including Belwin, Daisy Rock Girl Guitars, Dover Publications, DW Drums, Faber Music, Highland/Etling, Kalmus, National Guitar Workshop, Penguin, TASCAM, Ultimate Support, and WEA.
###