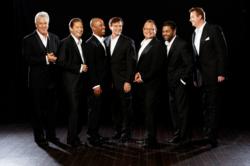 We've been honored to be hosted by exceptional Leaders and Churches and now to be performing at the Republican National Convention.
Tampa, FL (PRWEB) August 28, 2012
SEVEN, a group of seven professional men who are all stars from the world of opera, musical theater and popular music have combined their high profile individual careers into one group, featuring the best singing ever heard on stage and recordings.
As the special musical guests on the final night of the Republican National Convention,they will commence the evening with the 'National Anthem'. That same Thursday night they will lead the closing finale singing their celebratory new hit single, 'What a Mighty Sound'.
SEVEN hit the market place just last year with two brand new CDs, What a Mighty Sound, a CD of stirring patriotic material, and also their self-titled CD, SEVEN featuring traditional inspirational songs.
SEVEN is the acclaimed operatic talents and musical careers of Amick Byram, Charlie Harris, Frank Hernandez, John Cavazos, Kelly Ford, Phil Armstrong & Van Dobbins III have converged to form the vocal ensemble known as, SEVEN.
To find out more about SEVEN, go to http://www.thesoundofseven.com