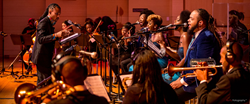 Soundtrack '63 takes us through a musical and visual journey from before 1963, and brings us up to the present day helping us to remember that the struggles of the past are sadly, not so different from the struggles we face today."
New York, NY (PRWEB) December 09, 2015
Soul Science Lab in collaboration with Junebug Productions, 651 ARTS and the Contemporary Arts Center of New Orleans, present a historic New Orleans edition of "Soundtrack '63", a live music and 3-screen multi-media retrospective of the Civil Rights Movement, during the Martin Luther King weekend at the Contemporary Arts Center of New Orleans.
After two sold out shows in at the Irondale Center, The New School and a rave reviewed Black history month presentation at the Brooklyn Museum, the fourth installation of "Soundtrack '63" will feature the untold and under-told stories of New Orleans' civil rights history. The production includes performances by Abiodun Oyewele of The Last Poets, Soul Science Lab's Chen Lo, Raphael "RAII" Smith and Whitney Keaton (RAIIWK), New Orleans' own Sunni Patterson, Troy Sawyer, Shaka Zulu, McDonogh 35 Senior High School Gospel Choir and commentary by Dr. Cornel West and Sonia Sanchez and others.
New Orleans native Asante Amin and Chen Lo, created "Soundtrack '63" as a cultural and artistic retrospective of the Civil Rights Movement during the 1960's through to the current Black Lives Matter Movement, allowing a modern audience to re-think, re-new, and re-mix their conceptions of the past into the present day. With Amin as Musical Director, and Chen Lo as Creative Director, the Soul Science Lab duo explores the Black experience in America through live Hip-Hop, Jazz, Soul, and Funk performances accompanied by an 18-piece orchestra and digital video installation that recreate the sights and sounds of the 1960's, highlighting the year 1963.
"We are thrilled to present this important work. Reflecting on the achievements of the Civil Rights Movement, it is remarkable to think about the parallel struggles today. The rallying call "Black Lives Matter" loudly echoes the civil rights declaration, "I am a Man," that united a movement fifty years ago. Soundtrack '63 takes us through a musical and visual journey from before 1963, and brings us up to the present day helping us to remember that the struggles of the past are sadly, not so different from the struggles we face today." – Stephanie McKee, executive artistic director, Junebug Productions.
Recognizing the magnitude and potential of the production to impact audiences, Asante Amin submits, "We have an opportunity to illuminate attention around one of the single most important movements in American history. There's never been anything like "Soundtrack '63" that seamlessly takes the music, visuals and the sentiments of the time and creates a documentary for all of the senses." Chen Lo shares, "The spirituals of the past brought faith and courage; pop tunes were an escape from harsh realities; and truth-tellers sang with a soulful defiance that electrified the Civil Rights Movement. The music of '63 still resonates with piercing clarity. Soundtrack 63 is my attempt at telling that story and connecting it to today."
Originally commissioned by 651 ARTS and created by Creative Director Chen Lo, Soundtrack '63 premiered in 2013 as a millennial response to the major events of the Civil Rights Movement and significant moments in history that have defined much of contemporary America as a part of the Movement '63 series. Soul Science Lab duo, Chen Lo together with Asante' Amin, in collaboration with visual arts collaborative, Elektric Breakfast, composed a dynamic presentation that soulfully explores the culture of the time, through milestone events in African-American history, connecting generations with the richness of the Black experience in America.
The fourth presentation of "Soundtrack '63" returns January 16-18, 2016 at 7:30 p.m. at the Contemporary Arts Center, located at 900 Camp Street New Orleans, LA 70130-3908. Advance tickets are available online on the Contemporary Arts Center website at http://bit.ly/ST63NOLA. Ticket pricing rates are $35 for advance general admission, $25 for advance general admission for CAC Members, $40 for general admission at the door and $30 for CAC Members general admission.
To learn more about "Soundtrack '63" visit Soul Science Lab on YouTube. RSVP on Facebook at http://bit.ly/ST63NOLAFB. To learn more about Soul Science Lab, visit http://www.soulsciencelab.com. To connect with Soul Science Lab, visit Soul Science Lab on Facebook, Instagram and Twitter at @SoulScienceLab. Follow the online conversation with the hashtag #Soundtrack63.
For all Soul Science Lab media and booking inquiries, please contact Jasu Sims at jasu@presstheory.com. Downloadable performance images, bios and other "Soundtrack '63" press assets are available at http://bit.ly/ST63NOLADB. *Photo credit: Kamau Ware Photography and Xyenz Fyxion of XyFy Fotography.