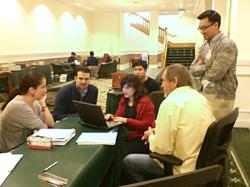 "What Leadership Source gave to me: I smile, I'm not lost anymore, I have a direction, and I feel that I wouldn't be here without this course. Anything is possible." - Janessa Jones
HEALDSBURG, CA (PRWEB) November 09, 2011
Source Point Training (http://www.sourcepointtraining.com) today released the first in a series of video testimonials from selected participants of the firm's renown Leadership Source professional and personal development program.
Source Point Training is a personal and professional leadership development and coaching company founded in 2009 by Barbara Fagan and Lou Dozier, both veterans in the industries for over 20 years. The company delivers rich content through experiential and inspirational trainings, approved by the International Coach Federation. Learn more about Leadership Source at http://www.sourcepointtraining.com/leadership-training/leadership-source/.
Offering the most sought-after leadership programs in the United States, Source Point Training travels throughout the country and abroad offering professional and personal development to empower executives, managers and business owners with the means to keep up with rapid changes in the marketplace and cultivate leadership attributes that strengthen all relationships.
Among the many lessons that attendees learn are the vital "secrets" of successful leadership such as:

Values of World Class Leaders and how they drive others;
Accountable choices that lead to positive results;
Listening skills that build rapport and solid relationships;
Utilize "personal purpose and vision" to guide your daily actions;
Effective communication that drives committed action; and
Source Point Training's 3Ps of successful planning.
Among the featured interviews was Randa Marder who remarked on the value of the "3Ps" – Purpose, Product, Process. "[The 3Ps] gave me 'intention' when I set out to have a new goal, [prepare for a] new meeting or establish a new relationship," says Marder. "I use the 3Ps just about every day to set intention and to have purpose [about] what I'm doing."
"One of the powerful tools that I learned during the training weekend were the 3Ps," agrees Kevin Carter. "I've implemented them in my business life in conducting meetings; what it's helped me do is to keep meetings on track, not let people go into tangents and keeping meetings focused to what the purpose of the meeting is and to get things done in the amount of time of the meeting and to get the meeting started on time."
"I have found that the most important element in affecting change is through empowerment; motivating people to take action and to put new skills to work every day," says Fagan, who is also a master coach and facilitator. Fagan has more than 25 years of experience inspiring professionals of all stripes to do more with their careers.
She explains that most people do not see the choices that are within their reach and do not take action during times of change. "Armed with good training and a coach who can clarify objectives, participants remove barriers that prevent them from moving forward," she says. "A program like this can raise awareness to new purpose and vision; prepare people to take massive action."
"Our mission is to challenge people to take action towards what they really want," says Fagan. "And we do that with performance coaching; standing by students for the entire 10 week program to facilitate the learning process. After 10 weeks, we meet to check results then look ahead to apply what they have learned into new actions that build toward their goals."
The aim of Source Point's Leadership Source professional development programs is to challenge participants and encourage them to become 'servant leaders' among their peers. According to Fagan, the course curriculum includes:
Two weekends of high-impact training facilitated by a Master Performance Coach;
10-weeks of coaching from leadership coaches who are experienced in our 'leadership principles in action';
Meet and work with people who share your aspirations and goals; and
Develop attitudes and skills of leaders committed to generating extraordinary results in all areas of your life.
Another of the interviewees, Karen Millerwise, is a fresh participant with Source Point Training. "I can't tell you how excited I am about the inspiration that [Source Point Training has] given me," she says. "It's really been an inspiration in my life to awaken me in terms of where I was [and] give me a sense of purpose to move forward with a specific plan."
Penny Polayes, who participated in the Leadership Source program over six years ago, added that Source Point Training's coaching and training... "assisted me to really take on a lot of things in my life. My relationship with my family, with my employees, with my husband, and with my children over the last 6 years has improved tremendously because of the training and the coaching that I got during Leadership Source."
Janessa Jones also took a long-view, pointing out that her participation was the result of a "ripple effect" from her sister and a friend. "I chose to attend Leadership Source because I felt that I was lost and needed some direction," Jones says in her interview. "The training weekends were great. I learned such great material that I use in my everyday life: the 3Ps, understanding the World View, Accountability, Goal Setting using the Smart Action Plan, and most importantly, my purpose: to bring joy into my life and the life of others. What Leadership Source gave to me, I can tell you this: I smile, I'm not lost anymore, I have a direction, and I feel that I wouldn't be here without this course. Anything is possible."
Why invest in professional development coaching?
In addition to anecdotes and testimonials, there have been substantive studies that show the clear benefits and effectiveness of professional coaching.
"Business has discovered that coaching is good for professional development and the bottom line," says Fagan. "It is profitable because companies and organizations see real gain from their investment in terms of increased productivity and organizational cohesiveness. It is beneficial because coaching enhances the substantial investment already made in employees and management. Think of it as a 'double-down' on your most valuable asset: your rank and file workforce."
According to a study conducted in 2008 by PriceWaterHouseCoopers and Association Resource Centre, Inc., companies that use professional coaching reported a median return on investment of seven times their initial investment. The study was the result of a survey of corporate and individual clients of ICF (International Coaching Federation) member coaches. It also found that individuals who participated in coaching reported a median return on investment of 3.44 times their investment. These findings were supported by 86% of all respondents who reported at least a 100% return on investment.
Among other survey findings, 80% reported positive change in self-esteem/self confidence among employees and managers who participated in professional coaching. In addition to a boost in self-esteem/self confidence, respondents also said that they experienced a positive change in business relationships with improved communication skills, interpersonal skills and work performance. They also reported improved work-life balance. An overwhelming 82.7% of individual clients said that they were "very satisfied" with their coaching experience and 96.2% said they would repeat the experience.
A recently compiled study by the AMA (American Management Association) found that professional coaching is associated with higher performance. And while only about half of companies in the U.S. currently implement coaching programs for their employees and staff, 37% say that they are planning to start in the near future.
Source Point Training professional development programs feature certified professional performance coaches. Source Point Training is recognized by the International Coach Federation (ICF) and offers more ICF-approved CCE Units than any other coach training organization in the U.S. The company offices are located at 1083 Vine Street, Suite 131, in Healdsburg, California.
To register for a Leadership Source program visit http://www.sourcepointtraining.com/leadership-training/leadership-source/ . For more information, email admin(at)sourcepointtraining(dot)com or call 800-217-5660 x103.
###