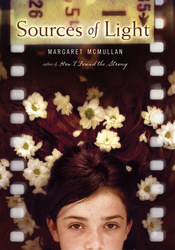 "...(Sources of Light) offers a superb portrait of a place and time and a memorable character trying to make sense of a world both ugly and beautiful." Kirkus Reviews
Evansville, IN (PRWEB) March 31, 2010
The Civil Rights Movement in the early 1960's divided much of the southern United States along racial lines. In SOURCES OF LIGHT (Houghton Mifflin Harcourt), a new novel by award-winning author Margaret McMullan, readers 12 and up will see how a teenage girl confronts the violence and ugliness of racial injustice when she and her mother move to Jackson, Mississippi in 1962.
About the book: It's 1962, a year after the death of Sam's father--he was a war hero--and Sam and her mother must move, along with their very liberal views, to Jackson, Mississippi, her father's conservative hometown. Needless to say, they don't quite fit in.
People like the McLemores fear that Sam, her mother, and her mother's artist friend, Perry, are in the South to "agitate" and to shake up the dividing lines between black and white and blur it all to grey. As racial injustices ensue -- sit-ins and run-ins with secret white supremacists -- Sam learns to focus with her camera lens to bring forth the social injustice out of the darkness and into the light.
What the reviewers are saying:
Booklist (http://www.booklistonline.com) says, "No one is demonized in this novel. McMullan, a Mississippi native, makes her characters complex, confused, and sympathetic… In the end, readers will see the humanity of those on the wrong side of history, and may even feel compassion for them, too."
Kirkus Reviews (http://www.kirkusreviews.com) says, "Though this fine volume easily stands by itself, McMullan links it with two previous works - HOW I FOUND THE STRONG (2004) and WHEN I CROSSED NO-BOB (2007) - and readers who read the first installments will feel that they are in the midst of an excellent historical saga… this offers a superb portrait of a place and time and a memorable character trying to make sense of a world both ugly and beautiful."
Angela Leeper of BookPage (http://www.bookpage.com) writes, "Using photography as a metaphor, McMullan shows how Sam looks for the sources of light and good amidst the hatred that surrounds her. Inserting elements of her own childhood and even alluding to her previous Reconstruction novel WHEN I CROSSED NO-BOB, she seamlessly blends fact and fiction and portrays this turbulent time in American history with candor and grace."
"Once again Margaret McMullan has woven a powerful story of the South," says Eveyln Walker, Chief Officer, Programming and Partnerships at the Evansville-Vanderburgh Public Library. "... McMullan's heroine is witness to a time in history where both incredible evil and incredible good vie for the soul of Jackson. Beautifully written, this slim novel has been selected, along with Kathryn Stockett's THE HELP, as the 2010 Community wide read for South Western Indiana."
SOURCES OF LIGHT is Evansville, Indiana's 2010 One Book/One Community Youth selection. It is McMullan's fourth young adult novel published with Houghton Mifflin Harcourt.
Award-winning author Margaret McMullan, http://www.margaretmcmullan.com, writes fiction for both children and adults. She has previously published three young adult novels, CASHAY, WHEN I CROSSED NO-BOB and HOW I FOUND THE STRONG. WHEN I CROSSED NO-BOB won a 2008 Horace Mann Upstanders Book Award Honor and was a School Library Journal Best Book of the Year, a National Council for the Social Studies Notable Book, and a finalist for the Willie Morris Prize for Southern Fiction. HOW I FOUND THE STRONG, winner of the Mississippi Library Association 2006 Award for Fiction, was also a 2004 Indiana Best Young Adult Book of Fiction, an ALA Notable Social Studies Book, and one of Booklist's Top Ten First Novels for Youth.
McMullan received a Literature Fellowship from the National Endowment for the Arts (NEA) in 2010 and she has received a Fulbright Fellowship to teach and research a new novel in Pecs, Hungary in the fall of 2010. McMullan has won two Mississippi Institute of Arts & Letters Awards for Fiction and has received two Individual Artist Fellowships from the Indiana Arts Commission and the National Endowment for the Arts. Her essays and short stories have appeared in Glamour, the Chicago Tribune, Southern Accents, TriQuarterly, Michigan Quarterly Review, The Greensboro Review, The Southern California Anthology, Other Voices, Boulevard, Ploughshares, and The Sun among others. She is a professor of English at the University of Evansville in Evansville, Indiana.
To schedule interviews, readings or book signings, contact Margaret McMullan via email at mm44(at)evansville(dot)edu.
SOURCES OF LIGHT is available at http://www.amazon.com, http://www.barnesandnoble.com, http://www.borders.com and at bookstores everywhere.
SOURCES OF LIGHT
Written by Margaret McMullan
Published by Houghton Mifflin Harcourt
April 2010
240 pages
Ages 12 and up
ISBN: 978-0-547-07659-1
http://www.margaretmcmullan.com
view book trailer on youtube: http://www.youtube.com/watch?v=6qSp7nx_jPo
###