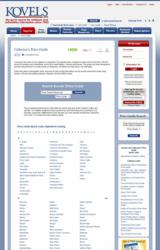 Cleveland, OH (PRWEB) August 03, 2012
For many collectors, finding accurate information and prices can be a guessing game. Kovels.com put together a list of 4 of the best free sources to help collectors learn about and determine the value of their pieces:

eBay is a good resource for finding quick prices, although they may be less accurate. Since only about a third of the antiques up for auction on eBay actually sell, only a third of the prices represent market value. And, unfortunately, many sellers don't have enough information to correctly describe their items.
Large web malls (think TIAS and Ruby Lane) sell antiques at retail prices, so users should be aware that auction and flea market prices will be lower. Sites like these are easy to navigate, with items organized by category and price range.
Auction house aggregators like LiveAuctioneers and Proxibid host auctions that run 24/7. Most of the auctions are posted by established antique galleries that have experts who understand the items they are selling. Searching on these sites is more complicated and time-consuming but, on the upside, the sites link you to recent sales and actual prices. Users should keep in mind that prices may not include buyer's premiums (up to 20 percent or more) and taxes.
Kovels.com provides accurate prices reviewed by experts who have studied prices at auctions, shows, flea markets and online. The site is constantly reviewed, giving users concise and trustworthy information. Prices are dated and the archives are easy to navigate.
About Kovels.com
Terry Kovel has written 100 books about collecting, including the best-selling annual price book, "Kovels' Antiques and Collectibles Price Guide." The 2013 guide will be in bookstores soon. Terry publishes a subscription newsletter and writes a syndicated newspaper column that appears in more than 150 newspapers and digital publications. She and her late husband, Ralph, starred in the weekly HGTV program, "Flea Market Finds with the Kovels." The Kovels website, Kovels.com, now offers more than 800,000 free prices and other information for collectors, including books, special reports, a weekly emailed letter to collectors, marks and an archive of other informative material. The Kovel brand is run by Terry Kovel and her daughter, Kim Kovel.
Contact:
Liz Lillis
216-752-2252
pr(at)Kovels(dot)com