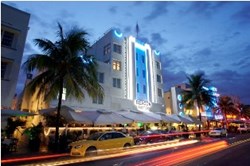 "Florida residents can sometimes overlook the fact that legendary South Beach, with its sizzling sandy beaches, gourmet dining, amazing nightlife and so much more to offer it's right here in their own backyard," commented Chris Regalado
Miami Beach, Florida (PRWEB) August 21, 2013
Sunshine state residents who want to experience an unforgettable South Beach "staycation" can now enjoy three new ways to save thanks to a special offer from the area's renowned luxury boutique Beacon Hotel.
Guests who book their stay at Beacon Hotel will:

Save 10% on their stay Friday and/or Saturday night, plus receive complimentary parking
Save 15% on their stay Sunday, Monday, Tuesday, Wednesday and/or Thursday night, plus receive complimentary parking
Save 20% on their stay (any night), plus receive two complimentary mojitos
Plus, guests will enjoy a range of amenities and extras that other South Beach hotels either don't offer, or charge a premium for, including:
hot daily breakfast
Wi-Fi
beach chairs and beach towels
local calls
personalized "VIP" concierge service
valet laundry service
turndown service
…and more.
"Florida residents can sometimes overlook the fact that legendary South Beach, with its sizzling sandy beaches, gourmet dining, amazing nightlife and so much more to offer isn't on the other side of the world or even on the other side of the country – it's right here in their own backyard," commented Chris Regalado, the hotel's Revenue Manager. "And now thanks to our special offers, Floridians have three great new ways to save and enjoy while they stay at the area's best-located luxury boutique hotel, with the clear blue Atlantic right across the street, and the dynamic heart of one-of-a-kind SoBe mere steps away 24 hours a day!"
Florida residents can check room availability and securely book their stay at http://www.beaconsouthbeach.com/florida-resident-hotel-discounts.htm . Guests who want to take advantage of Beacon Hotel's 10% or 15% special offers can travel year-round. Guests who want take advantage of the 20% special offer must travel by November 30, 2013.
For more information or media inquiries, contact Christopher Regalado, Revenue Manager, at chris(at)beaconsouthbeach(dot)com or 305.674.8200.
About the Beacon Hotel
Renowned among chic and stylish Miami Beach hotels, and located in the heart of South Beach, the Beacon Hotel is a Boutique Art Deco Hotel just steps away from all of the best entertainment that South Beach has to offer: Sun, Sand and Sea. With the clear blue waters of the Atlantic directly across its front doors, the Beacon Hotel offers the perfect ambiance for a breathtaking beach vacation, featuring world-class amenities, an exquisite restaurant and tantalizing nightlife. Guests enjoy an extraordinary gastronomic experience with live music entertainment that will elevate their spirits with the melodies that fill the air. With an array of beach side water sports, state-of-the-art fitness center and highly advanced business center, Beacon Hotel is a full-service boutique South Beach Hotel.
Learn more at http://www.beaconsouthbeach.com/ and connect with Beacon Hotel on Facebook at https://www.facebook.com/beaconsouthbeach/.