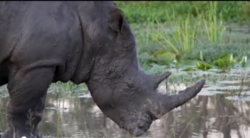 "Rhino Africa is a remarkable organization that's able to use modern technology to communicate with the potential traveler and to take them effectively, efficiently to the best places in Africa. There are many options.
Cape Town, South Africa (PRWEB) August 16, 2012
For many Americans, an African safari is a lifelong goal. In fact, in 2010, nearly 250,000 Americans traveled to Africa for their dream vacation and many of those headed to South Africa. With a stunning variety of spectacular natural environments, exotic wildlife, award-winning vineyards, historic townships, uniquely sophisticated cities, world-renowned cuisine, and lively culture, South Africa offers a journey of discovery like no other.
Yet, given the considerable expenditure in terms of both dollars and time to travel to Africa, choosing the right tour operator to arrange your trip can mean the difference between a dream vacation and a costly nightmare.
That's why more and more savvy travelers are opting away from U.S. travel agencies and booking their itineraries directly with African-based operators who have an intimate understanding and knowledge of the African safari adventure. One of the leaders in the field is aptly named Rhino Africa.
Watch Rhino Africa on NewsWatch's Nationwide Television Show
Located in the magnificent city of Cape Town, in just seven short years, Rhino Africa has become the continent's leading online tour operator, bringing over 15,000 guests to Africa every year. The reason for their amazing growth can be attributed to a simple philosophy- offer tailor-made holidays to suit a client's exacting requirements at a price that is guaranteed to cost less than if they booked direct. The secret ingredients are their expert consultants who have unrivalled, first-hand product and destination knowledge.
In addition to dream vacations, Rhino Africa is passionate about supporting conservationism and local communities in Africa. Challenge4aCause was started by Rhino Africa in 2009 as a means for the team at Rhino Africa to give back to the continent. It aims to support the conservation of Africa's endangered animal and plant species and will also finance projects that seek to uplift poor communities. Through the 2012 Challenge4ACause Charity Cycle across the Namibian desert, Rhino Africa hopes to raise R800,000 to put an end to Rhino poaching and support community development in Africa.
For more information, visit Rhino Africa.
NewsWatch is a weekly 30-minute consumer oriented television show that airs nationwide. NewsWatch regularly features top travel destinations, health tips, technology products, medical breakthroughs and entertainment news on the show. The show airs in 180 markets nationwide as well as all of the top 20 broadcast markets in the country, and is the preferred choice for Satellite Media Tour and Video News Release Distribution. For more information, head to newswatchtv.com