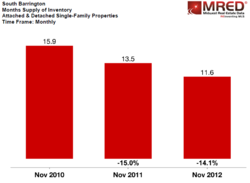 low South Barrington real estate inventory indicating a recovering real estate market
(PRWEB) January 04, 2013
December 2012 proved true to another month of low supply in inventory in South Barrington real estate. The market showed the steady decrease reached to the low of a twelve month supply.
At a three year low, the number of new listings per month dropped by 75%, from an average of 8 new listings a month to now only 3. Proving the markets inventory is low, December 2012 had 44 traditional sales for South Barrington real estate with one REO and only 6 short sales. This is a big difference from December 2010 that had 69 traditional sales and only an increase of 1 REO property and 3 closed short sales.
December is reflecting the same pattern for years traditional low inventory and an increased number of sales. The average number of properties closed per month increased from four to five homes closed per month for December 2012. The average number of new listings for this time of year is 5 traditional and one short sale. The median sales prices for $709,994 properties and lower creased by 20% from November 2011 at a three year high of $515,000. This is a figure that is 33% higher than the median price from November 2010. On the flip-side, properties between $709,995 and a million dollars decreased in average median price to around $730K. The majority of the market traffic is around the $500,000 dollar mark.
According to Realist, the market is projected to continue to increase in the median sales price and continue to have low sales activity typically until February or March. The median dollar per square foot continues to have the average of $170/ Sq Ft. with a median of 3,000 per property. South Barrington real estate continues to have a very low amount of foreclosure activity with its median value of home equity averaging around $507,907.
Visit Barrington Homes For Sale website if you are interested to know more about this real estate market.
Contact John Herman Team, Hometown Barrington, IL
Office 847-847-4711, Web Site: http://www.BarringtonHomesForSale.com