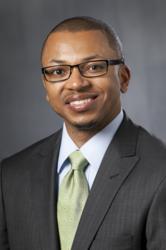 South Bend, Ind. (PRWEB) July 31, 2012
Carlos R. Bolden, M.D., has joined the Obstetrics and Gynecology Department at The South Bend Clinic Granger. In addition to providing a full range of obstetric care, Dr. Bolden specializes in gynecologic care that includes minimally invasive surgery, operative hysteroscopy, advanced operative laparoscopy and robotic surgery, endometriosis treatment, alternatives to hysterectomy and endometrial ablation.
Dr. Bolden received his undergraduate degree with honors in biomedical engineering from Washington University in St. Louis, Mo., and his medical degree from Northwestern University Feinberg School of Medicine in Chicago, Ill. He completed his residency in obstetrics and gynecology at Duke University Medical Center in Durham, N.C., where he received specialized training in high-risk obstetrics and in minimally invasive gynecologic surgery using the da Vinci® Surgical System.
Dr. Bolden is a junior fellow of the American Congress of Obstetricians and Gynecologists. He is also a consultant for the healthcare information technology industry.
About The South Bend Clinic
The South Bend Clinic is a comprehensive, multi-specialty physician group serving the Michiana region for over 90 years. With over 100 medical and surgical providers in over 22 different specialty and primary care disciplines, the Clinic is the largest medical group in northern Indiana and southwestern Michigan. The South Bend Clinic physicians practice in nine regional offices and campuses. Clinic physicians have long been leaders in innovative care delivery, offering the community's most comprehensive scope of primary care to pediatric, adult and geriatric patients, complemented by an array of subspecialists in cancer, musculoskeletal care, cardiac and vascular care, and numerous surgical and medical subspecialties. To learn more about The South Bend Clinic, visit http://www.southbendclinic.com.