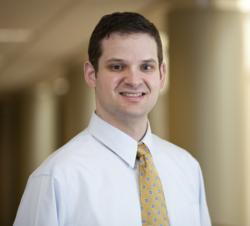 South Bend, IN (PRWEB) July 30, 2012
David E. Stiasny, M.D., has joined Drs. Daniel Barrett and Melissa Hickey in the Pediatric Department at The South Bend Clinic Granger.
Dr. Stiasny is certified by the American Board of Pediatrics. Before joining The South Bend Clinic Granger, he worked as a pediatric hospitalist at Beaumont Hospital in Troy, Mich.
After graduating with distinction from Indiana University Bloomington, Dr. Stiasny received his medical degree from the IU School of Medicine in Indianapolis, Ind. While attending medical school, he was appointed co-editor of the medical student newspaper as well as co-chair for the IU School of Medicine chapter of Reach Out and Read. Dr. Stiasny completed his residency in pediatrics at Children's Hospital of Michigan in Detroit. He holds a professional membership with the American Association of Pediatrics.
Drs. Stiasny, Barrett and Hickey see children from newborns to young adults and are committed to promoting healthy development throughout childhood with preventive medicine and wellness care. In addition, they manage a wide variety of childhood illnesses, both chronic and acute. These board-certified pediatricians are also skilled at recognizing educational, developmental and psychosocial issues that arise in childhood. They are experienced in treatment as well as appropriate community resources.
About The South Bend Clinic
The South Bend Clinic is a comprehensive, multi-specialty physician group serving the Michiana region for over 90 years. With over 100 medical and surgical providers in over 22 different specialty and primary care disciplines, the Clinic is the largest medical group in northern Indiana and southwestern Michigan. The South Bend Clinic physicians practice in nine regional offices and campuses. Clinic physicians have long been leaders in innovative care delivery, offering the community's most comprehensive scope of primary care to pediatric, adult and geriatric patients, complemented by an array of subspecialists in cancer, musculoskeletal care, cardiac and vascular care, and numerous surgical and medical subspecialties. To learn more about The South Bend Clinic, visit http://www.southbendclinic.com.