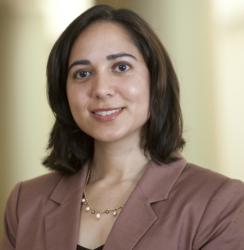 "I'm thrilled to be a part of The South Bend Clinic and I look forward to providing the best possible patient care with special interests including everything from IBS and IBD to advanced interventional procedures such as EUS and ERCP."
South Bend, Ind. (PRWEB) August 06, 2012
Jennifer A. Spanier-Stiasny, D.O., has joined Drs. Zuhair Yaseen, Luis Nidea and Chang K Oh in the Gastroenterology Department at The South Bend Clinic.
Certified by the American Osteopathic Board of Internal Medicine, Dr. Spanier-Stiasny specializes in a full range of gastroenterology issues and diseases including irritable bowel syndrome (IBS), inflammatory bowel disease (IBD), and GI functional and motility disorders. In addition, she has experience with advanced interventional procedures such as endoscopic ultrasound (EUS) and endoscopic retrograde cholangiopancreatography (ERCP), among others.
After receiving her Doctor of Osteopathic Medicine degree from Kansas City University of Medicine and Biosciences in Kansas City, Mo., Dr. Spanier-Stiasny completed her internship and residency in internal medicine at Mount Clemens Regional Medical Center in Mount Clemens, Mich. She then completed a fellowship in gastroenterology at St. John Macomb-Oakland Hospital in Madison Heights, Mich.
In addition to her extensive training in a variety of GI procedures, Dr. Spanier-Stiasny has authored many review articles that focus on a variety of gastrointestinal treatments and disorders. She has also contributed to regional and national presentations on these topics. Dr. Spanier-Stiasny holds professional memberships with the American Osteopathic Association, American Gastroenterological Association, and the American College of Gastroenterology, among others.
About The South Bend Clinic
The South Bend Clinic is a comprehensive, multi-specialty physician group serving the Michiana region for over 90 years. With over 100 medical and surgical providers in over 22 different specialty and primary care disciplines, the Clinic is the largest medical group in northern Indiana and southwestern Michigan. The South Bend Clinic physicians practice in nine regional offices and campuses. Clinic physicians have long been leaders in innovative care delivery, offering the community's most comprehensive scope of primary care to pediatric, adult and geriatric patients, complemented by an array of subspecialists in cancer, musculoskeletal care, cardiac and vascular care, and numerous surgical and medical subspecialties. To learn more about The South Bend Clinic, visit http://www.southbendclinic.com.