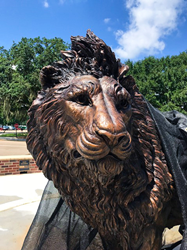 SLU's investment in one of the best sculptures and memorial names in the country is a pretty big deal!
PROVO, Utah (PRWEB) September 08, 2019
There's no better way to commemorate anyone or anything than a permanent, stable structure. For generations, the art of civilizations has long told stories of individuals and events of the past through art. A statue - created, curated, and designed with intricate detail every step of the way - more than solidifies meaning; it memorializes it.
On August 29th, Southeastern Louisiana University (SLU) revealed the new bronze statue of its beloved mascot, Roomie.
Located in Hammond, Louisiana, SLU's sports teams are members of NCAA Division I, so sports are serious business. The 2019 season is kicking off with bragging rights to the number one running back coordinator in the division. SLU athletics showing confidence and enthusiasm in sports from football to soccer and softball. Just in time for the new season, Roomie's unveiling was an event to see. The southeastern mascot not only represents the colors green and gold of SLU but embodies the university's community spirit of oneness and pride.
Roomie is a lion - the very symbol of power, strength, and courage. His name, adopted by one of the university's beloved professor, alumnus, and Lions superfan, Rommie Wilson, carries a legacy. Each year, students lively students gather to celebrate Roomie's birthday and change his costume. It's just one way they "lion up." Lion love goes deep for the SLU mascot.
Roomie is involved all over the community - from sports events to new student registration and graduation activities. He is a proud mascot, of outstanding character. In 2016 he came in as the close second-place winner of the 2016 MidSouth Bank Southland Conference Mascot of the Year to crown the Louisiana mascot for the upcoming season. At any given moment, you can catch Roomie on Broadway, amping up the game, or getting a makeover.
Several meetings and a university-wide vote were held to include the voices of SLU's many moving forces related to Roomie's new look. Students, staff, alumni, and stakeholders could submit their vote to have their voice heard on Roomie's new look.
Roomie personifies the university's motto: Fidelitas Integritas Fortitudo. (Fidelity; Integrity; Fortitude). The Southeastern Louisiana University mascot esteems great pride in the community. If a picture is worth a thousand words, statues must be poetry. SLU's selection of a leading national sculpture company, Big Statues, emphasizes their commitment to excellence and quality.
The artist, Matt Glen of Big Statues knows his art. He is passionate about sculpting and has been creating bronze monuments for over 15 years. What began as a small home project has blossomed into the biggest names in sculpture art in the USA. You can see the works of Big Statues all over the country - in ballparks, city gardens, and institutions.
Glen is a devoted father and husband. Raising a household of five growing boys opens several opportunities to draw creative inspiration from life. Surrounded by the beauty of the Rocky Mountains, Glen is a true artist to the core. One might say nature has provided a foundation of love through its ability to create art from its very soil. Molded from warm clay and transformed into art, Glen discovered the sweet spot to commemorating life that will retain its value through the tests of time.
Over the years Glen has developed his craft to serve as statue sculptor for clients from municipalities to private organizations. His team's attention to detail bring to life the most memorable, respectable structures in the world. Businesses around the country have entrusted the American-made company with curating its best bronze representations from animals and historical figures to memorials and symbolic emblems.
Every structure is a project deserving of the highest importance. From research and planning through sculpting and molding to the final casting of bronze from wax replicas, the process for creating bronze statues is intense. Each step builds upon the last and is its piece of brilliance simultaneously. The intricate process is as high a wonder as the finished product is magnificent.
SLU's investment in one of the best sculptures and memorial names in the country is a pretty big deal. Roomie has been the cornerstone of everything SLU prides itself within its students, faculty, staff, and fanatics. This reveal is the highlight of the 2019 kickoff season, just in time to usher in the excitement of another year of fun, academics, and lion pride.