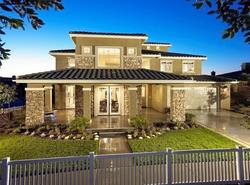 Winchester, CA (PRWEB) April 6, 2010
There's only a month left to purchase a Ryland home in the French Valley with the help of the Federal Housing Tax Credit. Homes in Winchester's Jasmine Estates qualify for the credit.
Ryland Homes, the premier Southern California new home builder, has homes priced from the upper $200,000s to the mid $300,000s with up to six bedrooms and four baths and a two- or three-car garage. Buyers may choose from eight different floor plans in Jasmine Estates, including two models just released for sale. Each design is highly customizable, with options for every family.
Winchester is conveniently located for north-bound commuters to Los Angeles and south-bound commuters to San Diego. Home of the Lake Skinner Recreation Area, Winchester and its surrounding area offers hometown getaways such as wineries, restaurants and shopping.
A sales contract must be signed by April 30 for the credit to apply, so contact a sales counselor today or visit http://www.socal.ryland.com to view floor plans and pricing.
More information about the tax credit is available at http://www.federalhousingtaxcredit.com.
Headquartered in Southern California, Ryland is one of the nation's largest homebuilders and a leading mortgage-finance company. Since its founding in 1967, Ryland has built more than 285,000 homes and financed more than 240,000 mortgages. The Company currently operates in 15 states and 19 homebuilding divisions across the country and is listed on the New York Stock Exchange under the symbol "RYL." For more information, please visit http://www.ryland.com.
###