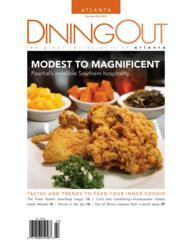 Atlanta, GA (PRWEB) August 24, 2012
DiningOut Magazine places a piece of Atlanta history, one full of the flavors of fine southern cuisine, on the cover of its Summer/Fall 2012 issue. The upcoming edition of Dining Out Atlanta Magazine features Paschal's Restaurant, which focuses on upscale, soulful dining experiences, as its cover story. In the article, "A Recipe for Greatness: Paschal's Turns a New Page in the History of Atlanta," Ted Gniff highlights the role of Paschal's Restaurant in Atlanta history – particularly during the civil rights movement.
Gniff also interviews Paschal's team members about their vision for honoring the restaurant's legacy. The two-page, full-color display offers a glimpse of the restaurant's newly redecorated dining room, where historic wall photos pay tribute to Paschal's history. The collection includes images of the Paschal brothers and the events of their time, as well as prominent restaurant visitors and well-wishers such as Martin Luther King Jr., Barack Obama, and Jimmy Carter.
Along with DiningOut Magazine a few amazing companies have partnered with Paschal's Restaurant to aide in this great celebration. Hennessey VS, Frogtown Wines, Sapparo Beer, Mirosa Beer, The Great Cupcake Company, Velocity Motorsport, and Delta Blues Ice Tea Company will all be a part of this incredible event.
Paschal's Restaurant will host the Dining Out launch party on August 28th from 7pm-9pm.
About Paschal's Restaurant
Paschal's Restaurant, an historic and soulful dining experience, located in Downtown Atlanta's Castleberry Hill Arts District. It features southern specialties such as fried chicken, braised short ribs, smothered pork chops and a famous peach cobbler. Located in the Castleberry Hill Arts District of Downtown Atlanta, Paschal's has a rich history of quality southern food that dates back to 1947 when the Paschal brothers, James and Robert Paschal opened their first location at 831 West Hunter Street in Atlanta, Georgia. The brothers decided 'Fried Chicken' would be the specialty of the house, and with that mandate, Robert created his 'secret recipe'.
Paschal's Restaurant became the 'meeting place' for some of the most notable entertainers, politicians, and business people. In 2002, James Paschal and Herman J. Russell would join forces to create a 21st century version of Paschal's Restaurant located in the Castleberry Hill area. Visit the Paschal's website at http://www.paschalsatlanta.com.
About Dining Out Magazine:
DiningOut editorial, guide, and distribution are geared towards elite demographic that enjoys the finer things in life. DiningOut's readers dine out an average of 2.8 times per week and go on vacation in-state an average of 5.5 times per year and out-of-state an average of 2.1 times per year. Not just ANY restaurant belongs in DiningOut . They only showcase businesses that have separated themselves from the competition—those who are arguably the best in their particular industry. Like the food and service showcased, DiningOut is about quality and excellence. The association of a region's great restaurants is exclusive and invaluable. Each city is broken into intuitive regions and restaurants are listed alphabetically within those color-coded regions. Maps and addresses are included at the beginning of each section. DiningOut places an unparalleled emphasis on quality, and is the best medium to accurately represent businesses catering to the finer things in life.