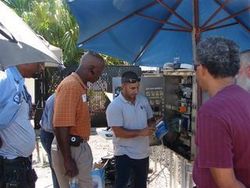 Once you understand what you are doing in the panel it is common sense… it's real easy and the set up wizard is very user friendly
Boca Raton, FL (PRWEB) June 17, 2009
The Village of Wellington has demonstrated its commitment to investing in well-designed, well-maintained infrastructure. The next generation MultiSmart was selected for control and monitoring of all lift stations, and has been connected to the Trihedral SCADA software.
Wellington recently invited local cities to watch a practical demonstration of how easy the MultiSmart pump station manager was installed and commissioned and then connected to the SCADA system. Trihedral and MultiTrode recently partnered up to create a free "Add MultiSmart site" for all Trihedral users.
Jason Faranda, Field Service Supervisor, said:
"We had a mix of products in our 105 lift stations, with the majority being relay controlled. We chose MultiSmart because it was so far ahead of everything else for lift station control. The high level monitoring and the remote control on offer will reduce our costs and make managing our collection system much easier. The whole maintenance and operational team enjoy the product because it's so easy to use.
"The 3-phase supply monitoring in MultiSmart helped us to identify the real supply problem in our stations. We thought there was a neutral issue with Florida Power and Light, but MultiSmart identified the real problem."
Godfrey Williams, Maintenance, added:
"Once you understand what you are doing in the panel it is common sense… it's real easy and the set up wizard is very user friendly"
And Ulysses Sivilla, Maintenance, also added:
"Once you use the set-up wizard once you never forget it… the MultiSmart is self explanatory and everything is laid out for you… the infield training was great and now all it takes is about 2-3 hours to install & commission a MultiSmart."
About MultiTrode:
MultiTrode, founded in 1986, is a specialist in pump station technology for water and wastewater utilities around the world. The company has offices in the USA, UK and Australia.
Contact:
Steve Carson, Group Marketing Manager
MultiTrode
+61 413 440951
http://www.multitrode.com
###