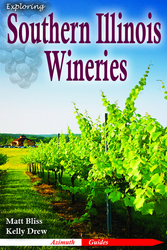 Makanda, IL (PRWEB) September 21, 2009
Lusk Creek Publishing has released the first ever, guidebook to the wineries of southern Illinois. Authors Matt Bliss and Kelly Drew have compiled everything visitors and veterans to the area need to know about the region. The book includes detailed road maps, touring suggestions, information about the Shawnee Hills A.V.A. and the wine making process, southern Illinois wine history, wine vocabulary, and more.
Each Winery has three pages dedicated to it that includes photographs, introduction, quick facts page, and wine list with tasting notes! This is an interactive book that you can take with you from winery to winery and write your impressions of each winery and its wine for future reference.
The wineries are divided into four sections that are color-coded for ease of use. At the end of each section, the authors have compiled a complete list of accommodations (bed & breakfasts, cabins, etc.), restaurants, and other areas of interest. They have also included 6 of the most popular day hikes in the region complete with maps, GPS coordinates, and pictures.
This 224 page book with 17 spreads and 13 full page photographs is a must have for anyone visiting southern Illinois.
Availability: Exploring Southern Illinois Wineries is available now at your local southern Illinois winery, LuskCreekPublishing.com and at BarnesandNoble.com
About Lusk Creek Publishing: Lusk Creek Publishing provides quality guidebooks to the southern Illinois and surrounding regions. Also new Sandstone Warrior: A Bouldering Guide to Southern Illinois.
###