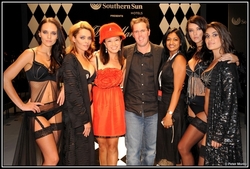 Just as Martin strives to deliver garments of perfection, so too does Southern Sun endeavor to exceed guest expectations
(PRWEB) February 8, 2010
The hotel group's lingerie show on Thursday 21 January at the Sandton convention Centre showcased the creations of one of South Africa's premier swimwear and lingerie designers, Dax Martin.
Recognised for his gorgeous swimwear brand, Dax Martin is at the forefront of local design. With his unique seamless lines Martin produces lingerie pieces to enhance femininity and beautify the art of repose. The show features a range racy yet tasteful sleepwear and lingerie for both him and her in shades of black and encompassing various textures. Having partnered with Southern Sun on two previous occasions to present his swimwear, Martin believes the two brands compliment each other – both seeking to merge glamour, lifestyle, design and an element of sophistication.
"Just as Martin strives to deliver garments of perfection, so too does Southern Sun endeavor to exceed guest expectations," says Graham Wood, managing director Southern Sun. "The hotel group's alignment with style is a perfect fit – whether it be food, décor, facilities or service ethics, we aim to set trends within the hospitality industry."
"And whether guests frequent our hotels for business or leisure, the experience has to be seamless and memorable," he says.
"Once again Southern Sun's participation in Fashion week will support local fashion in particular, as well as broader development and economic growth. Often seemingly disparate industries are interconnected – and activities such as Fashion Week constitute an important springboard for awareness and investment."
Described as a facilitator for the development of South Africa's [and Africa's] fashion industry, Dr. Precious Moloi-Motsepe Chairperson for African Fashion International endorses Southern Sun's involvement. "We are proud of our relationship with Southern Sun. Their support of our local fashion industry and designers shows their commitment to the growth and development of our industry and ultimately job creation. We are excited that they will be working with Dax Martin again. This will be a must see show."
# # #