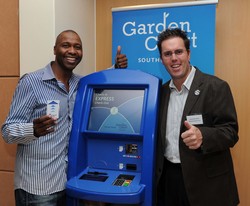 The self-service environment permits guests to make choices at their own pace. It instills a sense of control, provides a quick service and maintains privacy
(PRWEB) February 16, 2010
In February Southern Sun Garden Court Sandton City, will launch Africa's very first hotel self check-in and check-out kiosks.
"A great day begins and ends with a great stay," says Priya Naidoo General Manager of Communications at Southern Sun. "Southern Sun's extensive guest research has pin-pointed that today's traveller is pushed for time. We are delighted to provide an alternative, time-saving check-in and check-out service for our business guests and for families travelling with children, where a speedy check-in is always fundamental."
This innovative technology at Southern Sun Garden Court Sandton City, reinforces the group's brand philosophy of being a vanguard of hospitality innovation. More and more consumers are embracing technologies geared towards self-service. Managing Director of Southern Sun; Graham Wood says "Our guests already use self check-in facilities at airports and the movies, and at economy, economy plus and brand hotels overseas. Generally, they welcome technology that enables them to 'do it themselves' – not to mention quickly."
The kiosk allows guests to check-in and out and to perform certain in-house functions within the hotel environment. The touch screen application facilitates easy interaction. To use the self check-in service, guests simply identify themselves at the kiosk with a reservation number or credit card, for example. The kiosk integrates with the hotel's operational system, allocates a room, authorises a debit or credit and dispenses a room key card. Through a similar identification process, it also allows guests to check-out, charging to a debit or credit card, or billing back to the guest's company or travel agent.
"The self-service environment permits guests to make choices at their own pace. It instills a sense of control, provides a quick service and maintains privacy. For those who prefer anonymity, self check-in is the perfect vehicle," Wood explains.
For those seeking a human interaction, Garden Court Sandton City hostesses will continue to provide check-in services at reception, and will also be available to assist customers with the self check-in terminals if needed.
The Garden Court promise to guests encompasses energised service delivery. "We continually endeavour to bring innovation to the forefront, to implement new technologies and new ways of working, and to generate new processes that truly benefit our guests," says Wood.
###