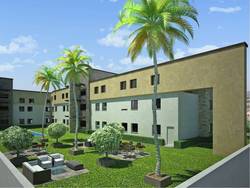 Feedback from guests shows StayEasy by Southern Sun is the brand of choice for many travelers seeking contemporary, affordable accommodation in key secondary locations
(PRWEB) March 8, 2010
Feedback from guests shows StayEasy by Southern Sun is the brand of choice for many travelers seeking contemporary, affordable accommodation in key secondary locations. The StayEasy brand provides a practical solution to the need for quality accommodation without the unwanted extras. Fewer frills but with a sense of style. Local and lekka. From the 15th March 2010 travelers up and down to KwaZulu-Natal will find this at the new StayEasy in Pietermaritzburg. This is due to the hotel being structurally completed and approved more than two weeks prior to the planned opening date, guests can be assured that all the final touches will be in place before the opening.
"Achieving practical completion – where the construction work is finished and the building is certified for occupation – 16 days prior to the hotel's official launch gives us a valuable opportunity to perfect our offering," says Dhayalan Naidoo, operations director for StayEasy "This is the longest lead time Southern Sun has ever experienced. It allows us to focus on refining our service delivery and interior décor finishes, and to run additional intensive employee training."
Completing the building work early was a team effort, says Naidoo. "We recognise the immense benefit inherent in working with partners. This value of team work is also evident among employees." Under the guidance of the new CC Operator, Annetta Maharaj, the staff at StayEasy Pietermaritzburg aim to create a culture of teamwork in line with Southern Sun's values. "This will enable us to work together to meet guests' needs – and to ensure that guests feel part of our 'family'," says Maharaj. She is inspiring her team to fulfill the StayEasy service promise, and to capture market share by becoming the preferred brand for travelers seeking a budget stay over option. "Creating an environment where people are proud to work is the foundation for achieving this," she says.
StayEasy Pietermaritzburg by Southern Sun has been built on solid foundations – ones which will
ensure the hotel stands tall, delivering on its promise to guests and the broader community.
Liberty Properties has invested R 100 million in the development of the hotel, which is managed by Southern Sun on a 10 year Management Agreement. 'Together with Southern Sun, Liberty Properties has developed a phenomenal new hospitality offering for the Pietermaritzburg market. The efforts of the project and development teams are evident in this beautiful product' said Thea Marx general manager coastal regions, Liberty Properties.
###