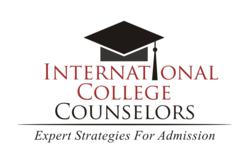 There are thousands of scholarships out there, many of which, surprisingly, only receive two or three entries.
Miami, Florida (PRWEB) January 31, 2013
Even if money grew on trees, people would still have to grab their baskets and get to work. The same goes for scholarships. They don't drop down onto a person's lap. Going out and getting them is key. Happily, there are a lot more scholarships than there are money trees. International College Counselors announced the 2013 College Scholarship Competition last week and all 9-11 graders are encouraged to apply.
Applying for a scholarship is a lot like applying for college. There are a lot of options to sift through before creating a list of worthwhile scholarships to spend time on. This means, it's important to filter the scholarships during the search. A student should only apply to the ones that match his or her skills, heritage, or other qualifications. Scholarships are very strict on this.
"There are thousands of scholarships out there, many of which, surprisingly, only receive two or three entries. We strongly encourage students to find the ones that match their qualifications which can be as general as going to a certain high school or having a parent that works in a specific industry," said college advisor Mandee Heller Adler, founder and CEO of International College Counselors.
THE SEARCH
Start Early. The more time a student puts into looking for scholarships, the more choices they'll have. Schedule time to request necessary information and put the materials together. Scholarships requirements may include:
Transcripts
Financial aid forms like FAFSA
Essay(s)
Letters of recommendation
Standardized test scores
Proof of eligibility, such as U.S. Citizenship, birth certificate, or tribal
membership card
Stay Organized. Make separate folders for each scholarship and keep track of what is needed and when things are due. Track the Scholarships on a Calendar. Make triple sure deadlines aren't missed.
THE APPLICATION
Follow the Instructions. Carefully. Count the words on the essay and provide the right materials. If there are any questions about what the scholarship requirements are, or how to fill out a part of the application, call or email the scholarship sponsors. Many applications are eliminated because the directions were not followed to the letter.
Stay on topic in the essay(s). If the essay asks for the philosophic themes of an Ayn Rand novel, don't be clever by comparing her to Batman. Give them what they asked for. Don't give more. Don't give less.
Check and Recheck and Recheck the Application. Everything must be easily readable, all the words must be spelled right and all the questions answered.
Make sure it's signed and dated by the right people, whomever the application requests whether it's a teacher or employer.
Send the Application in On-Time. Make sure you do this!
"Even small scholarships are worth the time to apply," said Adler.
Scholarships do affect financial aid packages, reminded expert college counselors at International College Counselors. Contact the financial aid office of any colleges being considered to find out the details. Each school has its own policy on which types of aid may be reduced or eliminated by the scholarship money. Different types of aid that may be affected by scholarship monies are loans, work-study and need-based grants.
Alert: Legitimate scholarships and scholarship websites are free! If asked to pay money to apply for a scholarship, look elsewhere.
The contest rules and submission information for the International College Counselors 2013 College Scholarship Competition can be found at International College Counselors. Select the "Scholarship" section of the website under "About Us" for downloadable contest rules.
The International College Counselors High School Essay Contest established this Scholarship Fund to increase awareness of the value of higher education among high school students, as well as to give financial aid for tuition to college-bound students.
ABOUT INTERNATIONAL COLLEGE COUNSELORS:
International College Counselors provides expert college counseling on undergraduate and graduate college admissions, financial aid, tuition, essays, and college applications to domestic and international students.
The college counseling and college coaching services are tailored to address the goals, needs, and dreams of each student. Mandee Heller Adler, founder of International College Counselors, is a graduate of the Wharton School at the University of Pennsylvania and also received an MBA from Harvard Business School. International College Counselors' achievements include being recognized as one of South Florida's Top 100 Small Businesses in 2012.
International College Counselors has offices in New York, New York; White Plains, New York; Boston, Massachusetts; Miami Beach, Florida; Miami, Florida; Hollywood, Florida; Coral Gables, Florida; Palm Beach, Florida; Boca Raton, Florida; Medellin, Colombia and Caracas, Venezuela.