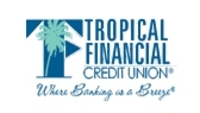 Miramar, FL (PRWEB) March 22, 2010
Tropical Financial Credit Union, is celebrating a true milestone. The South Florida credit union members have been benefiting from free checking accounts, savings accounts and much more for over 75 years! The member owned organization has been providing the best car loan rates along with personal and business banking needs since 1935. This year to celebrate such a historical occasion, the company is 75!
Tropical Financial Credit Union is a member-owned South Florida credit union that is regulated by the National Credit Union Administration. Members continue to see benefits of credit union checking accounts as the company has grown from $800 in deposits in 1935 to over $700 million in assets in 2007. The South Florida Credit union has gone through many changes over its 75 year history - from name changes to expansion of branch locations. TFCU provides members with the best car loan rates along with several mortgage products and many other services.
"The company has stood the test of time and has seen growth year over year. It's amazing to look back and see where this South Florida credit union started, offering simple bank accounts to now offering mortgage products and the best car loan rates," said Cina Tucci. "We continue to strive for excellence, offering quality investment methods and products that will help achieve financial success."
About TFCU:
Tropical Financial Credit Union has been offering quality products for customers for 75 years. This fully accredited South Florida credit union is open for all residents of Dade, Broward, Palm Beach and Sarasota counties, regardless of where they work. They continually expand and offer free online banking, the best car loan rates, mortgage rates and other deposit and loan products. As always, they continue to offer free individual and business checking in Florida throughout their branches and for all their members. For more information please visit http://www.tropicalfcu.org.
###