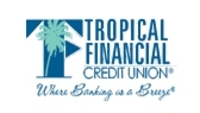 Miramar, FL (PRWEB) March 23, 2010
Tropical Financial Credit Union, a South Florida based credit union, is expanding and has broken ground on a new branch in Pembroke Pines. The branch is set to open on late Summer 2010. The latest branch in Pembroke Pines will be a full service location.
The South Florida credit union, celebrating its 75th anniversary this year, continues to expand products available to their members. Through the credit union, car loans and other loan products are aggressively priced to save their members money. Recently, the company has added the ability for residents of South Florida to open a checking account online.
"Pembroke Pines is an area we have wanted to expand in for a very long time. With many banks closing, we feel this is a great opportunity for us to become more viable to the public," said Heather Yant, VP Branch Operations.
About TFCU:
Tropical Financial Credit Union has been offering quality products for customers for 75 years. This fully accredited South Florida credit union is open for all residents of Dade, Broward, Palm Beach and Sarasota counties in South Florida and are now able to open a checking account online, They continually expand and offer free online banking, the best car loan rates, mortgage rates and other deposits and loan products. As always, they continue to offer free individual and business checking in Florida throughout their branches and for all their members. For more information, please visit http://www.tropicalfcu.org.
###